Snowfall on Lighthouse Lane (Honeymoon Harbor)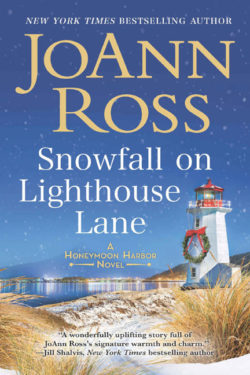 Author

JoAnn Ross

Release Date

October 30, 2018

Publisher

HQN

ISBN/ASIN

9781335556783

Our Rating

Reviewed by

Jo
Our Review
SNOWFALL ON LIGHTHOUSE LANE takes us back to Honeymoon Harbor and the series by the same name. It's a quaint town that thrives on gossip, and the townspeople know everything going on as soon as it happens (thanks to the town's Facebook page as well as word of mouth.)
It was nice to be reunited with the Mannion family. This time it is Aiden and Jolene's story. Once again, childhood friends have a second chance at romance when they both are back in town at the same time. He is the rebellious bad boy who has cleaned up his act, and she's returning home to be with her mom during a health scare, as well as to get her own life back in order. 
Love is definitely in the air as there are other romances happening too.The story flows nicely with multiple plots going on that blend seamlessly together. The story involves  family and friends, romance and the holidays. The characters have a depth to them; we learn their history as well as what's currently going on in their lives.
Aiden and Jolene have chemistry, and neither has forgotten the other or their short stint secretly dating in high school. Their feelings come rushing back after not seeing each other in fourteen years. Everyone around them sees that they are meant to be together, but are either of them ready to take the next step in their relationship, let alone settle down?
I liked the interactions between all the characters and how they were always there to lend a hand and help out. The story isn't all happy moments, and it has a real town feel as a result. There is a happily ever after and enough loose ends to bring us to the next book in the series, SUMMER ON MIRROR LAKE—of which there's an excerpt in the back of the book that left me wanting more.
Ms Ross is an author I only read occasionally, but I'm trying to rectify that. I look forward to reading the next book in the series as well as the two novellas I missed along the way: HOME TO HONEYMOON HARBOR and ONCE UPON A WEDDING. I look forward to reading other books she's written, not only those in this series.