So Over You - Chicago Rebels #2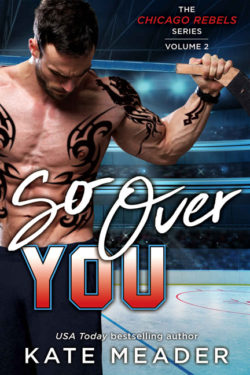 Author

Kate Meader

Release Date

December 4, 2017

Publisher

Pocket Star eBooks

ISBN/ASIN

9781501168567

Our Rating

Reviewed by

Jo
Our Review
SO OVER YOU is the second book in THE CHICAGO REBELS SERIES, and it doesn't disappoint. We pick up where we left off in the first book of the series, IRRESISTIBLE YOU, and it just gets hotter from there. So hot that I'm surprised the ice didn't melt and that the Chicago Rebels were still able to skate on the ice and play hockey!
This is Isobel and Vadim's story, which started ten years before. When they reconnect, boy do they ever! He's watched over her from afar and followed her career, just as she followed his. They both have secrets and pasts that they don't want to delve too deeply into, but somehow they do anyway.
Isobel is the middle daughter of an ice hockey legend and coach, and she is the only child who played hockey. She wanted to take it as far as she could, even with her father pushing her from the grave. There is so much chemistry between Isobel and Vadim, and it just gets more combustible the more they're around each other. They also both have tempers and believe their point of view is the right one. Watching their take-two-steps-forward-and-one-step-back approach was heart-wrenching at times. Vadim tried to keep his private life private, but it didn't work so well and tended to frustrate him as well as his sister, Mia.
The story is filled with family and friends, teammates, and lots of hockey. The romance is wonderful. The story flowed nicely off the rink and on, and there were multiple stories going on that were interwoven together seamlessly. Despite the happily ever after, there are enough loose ends to bring us to the next book in the series, UNDONE BY YOU. There's also a novella, IN SKATES TROUBLE, that starts the series off that I plan on reading.
Meader is an author whose books I've enjoyed. They have a bit of spice with well-developed characters and lots of loving too. I'll be back for more!