So This is Christmas - A Novel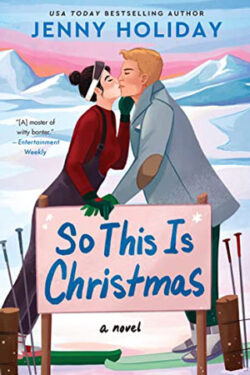 Author

Jenny Holiday

Release Date

October 4, 2022

Publisher

Avon

ISBN/ASIN

9780062952127

Our Rating

Reviewed by

Jo
Our Review
SO THIS IS CHRISTMAS is the third book in the A Princess for Christmas series, and I plan to go back and read the first two books in the series, because this was so enjoyable. This is a story with all things Christmas, set in Eldovia, where Cara has to fly to for work before Thanksgiving. She won't be back home in New York until Christmas Eve, or so she thinks.
Cara has to work closely with Matteo, who works for the king. Her role as a management consultant is to help their country's floundering finances since they only have one real industry. She and Matteo don't hit it off since Matteo thinks she will destroy the worker's livelihoods with layoffs. He also plays Santa anonymously with a friend to make sure all in their area who need a helping hand get what they need through the magic of Christmas. Cara and Matteo have problems communicating until they decide to work together, but they don't know whether to leave their barriers up or down. There is sometimes a playfulness to the story, and the relationships Cara forms really enrich the novel.
There are many threads to the story that are woven together nicely. The descriptions of Christmas and the country are vivid, and the characters are well drawn. Cara and Matteo are more alike than they will admit, and they do work well together. The secondary characters also fill the story with warmth. There are a few unexpected plot twists which had me turning the pages to see what would happen next.
SO THIS IS CHRISTMAS is a wonderful holiday romance to get you in the spirit for Christmas!