Solace Island (Solace Island Series)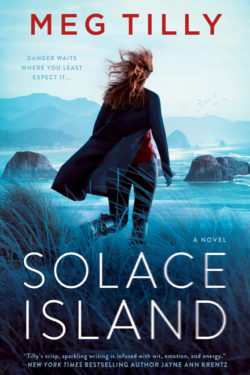 Author

Meg Tilly

Release Date

November 6, 2018

Publisher

Berkley Jove

ISBN/ASIN

9780440000525

Our Rating

Reviewed by

Jo
Our Review
SOLACE ISLAND is the first book in the series by the same name. There are definite twists and turns to the story, but the story seems to be missing a bit of depth. My heart didn't race, even when the bad guys got involved. Still, it's an enjoyable read and I hope to see what the next book, CLIFF'S EDGE, has in store.
The book begins in Arizona with a love gone bad, but was there even love involved in the relationship that lasted five plus years? When Maggie runs away to Solace Island in Washington to vacation with her sister, things don't look promising. Her ex keeps trying to contact her, and she realizes she dodged a bullet when he ditched her. 
Maggie gets lost on the island driving to her rental and meets Luke, from whom she gets directions and has instant chemistry. They meet again and grow to learn about and care for each other, despite being leery, given their romantic histories. The characters are easy to like, but Maggie acts more naive than I would expect her to be. 
The story engaged me but seemed to fast-forward too quickly to the end without the details I had hoped for. The time between the end and epilogue also confused me. I did enjoy the book, however, and look forward to reading the next two books in the series, CLIFF'S EDGE and HIDDEN COVE. 
Ms. Tilly is a new-to-me author who is also an actress. I look forward to seeing some of her movies as well as reading more of her books.