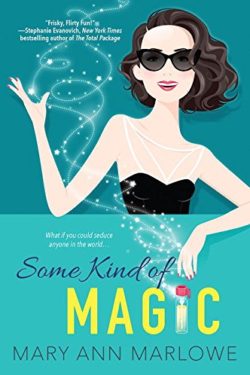 Author

Mary Ann Marlowe

Release Date

January 31, 2017

Publisher

Kensington

ISBN/ASIN

9781496708069

Our Rating

Reviewed by

Diana S
Our Review
Eden Sinclair is a biochemist who lets another chemist spray her with some perfume he made. She is supposed to let people smell her to see how they like it. Eden doesn't know it is designed to enhance human pheromones.
Eden also loves music and always goes to see her brother's band play and sometimes sings with them. Eden meets a cute, grungy-looking guy who is an international rock star but she is unaware of who he is. Adam Copeland is a big name in the music scene. By the time Eden realizes who he is she has already spent the night with him.
Eden and Adam become a couple and she is drawn into the spotlight with him, so the paparazzi are interested in finding out who she is. As their attraction to each other grows and gets more heated, Eden is loath to admit she isn't sure whether it is chemistry induced or natural. When the secret of the spray is released to the media, Eden's world blows up. Not knowing what to do, the couple decides to split up for the sake of Eden's world. Will her boss, who is not happy with the publicity, decide to let her go and what will it do to her life?
Mary Ann Marlowe's debut women's fiction novel, SOME KIND OF MAGIC, is an engaging look at modern relationships, proving why we fall, how to connect and the courage you need when delving into something as mysterious and unpredictable as love. A witty and sexy tale about two people falling in love in the media, as well as the distrust and undeniable seduction of fame in a novice's life. A great book for all ages who love women's fiction and the mysteries of a new relationship.