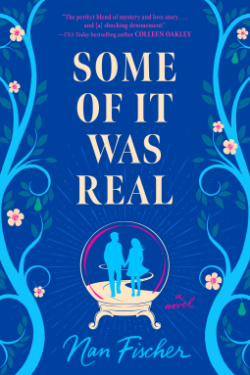 Author

Nan Fisher

Release Date

July 26, 2022

Publisher

Berkley

ISBN/ASIN

9780593438695/B09KGTL97B

Our Rating

Reviewed by

Michele Rioli
Our Review
SOME OF IT WAS REAL is a top notch, hook, line and sinker plot. It stars a pretty psychic/medium, Sylvie Young, who is an orphan and can't remember her life before her adoptive parents. She is visited by a journalist, Thomas Holmes, who sets out to defraud her. Thomas is dealing with grief following a car crash that killed his dad and brother. His mom did her best raising him, but she spent her hard earned money on psychics. So, Thomas is skeptical of Sylvie's talents and is out to expose her. Thomas is on thin ice with his journalism job, so if he can get the scoop on Sylvie and expose her as a fraud, it will seal his career. From the research he's done already on Sylvie, he knows a lot more than she does. What do they find out about her past?
Sylvie struggles with confidence about her abilities. She knows things but is it a coincidence? Her career is taking off into stardom through a TV contract. Her agent believes in her but that's the kicker, is she for real? There are things she can't explain. Plus, there is a big gap in her memory about her past. Where did she come from? Who are her real parents?
Thomas learns to like Sylvie despite his initial misgivings. Sylvie doesn't want to lose her job but they are convinced that they need to learn what actually happened to her as a child. What scary secrets do they unsuspectingly uncover while investigating Sylvie's past?
Incredibly captivating plot filled with twists and turns as Thomas and Sylvie uncover the past in SOME OF IT WAS REAL. This is such a good story by Nan Fisher! I was reeled in from the start as Sylvie and Thomas both tell their stories and their dreams for their lives. There are many side plots that added to the overall suspense of the story with quite a few colorful characters. The story is emotional, deep, mysterious, traumatic and very dramatic! There is a little romance but there is so much depth, heart and more! SOME OF IT WAS REAL is incredibly unique and unputdownable!