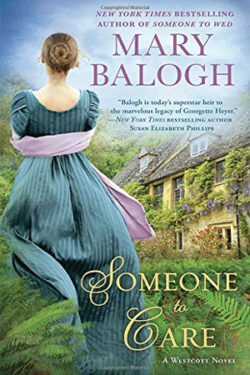 Author

Mary Balogh

Release Date

May 1, 2018

Publisher

Berkley

ISBN/ASIN

978-0399586088

Our Rating

Reviewed by

Dorine
Our Review
Mary Balogh is one of the few authors who always meets my expectations. The fourth novel in the Wescott regency historical romance series, SOMEONE TO CARE by Mary Balogh, meets those expectations and exceeds them in several ways.
I love Mary Balogh's characters. They make me laugh. Their idiosyncrasies are so realistic and fun. Starting this novel at a small-town festival, where neither of these characters would normally visit, gives such a lightness and frivolity to their time together. It's really entertaining. I was so happy to be back in this world so eloquently created.
Having said that, as an avid historical romance fan, the Regency era is my least favorite period to read. I've become extremely picky about how many Regencies I accept to review and rarely buy them as a comfort read. Mary Balogh is always a comfort read and I beg to review every book she writes. I just know that no matter how difficult her characters are to love because of their initial faults, I will love their resolution. Even the petty ways of the Ton that often annoy me end up amusing me in a Balogh creation.
Marcel Lamarr, the Marquess of Dorchester, initially comes across as a great bore, which are usually my favorite types of Balogh characters. His quizzing glass raises in a haughty manner within the first paragraph, immediately proving he's going to be a pistol. I couldn't wait to discover which woman was going to mess with his heart and calm his boorish tendencies.
Marcel's brother, Andre, is a nice compliment to Marcel's demeanor. Andre is full of humor and mischief, much to Marcel's annoyance. The oldest brother at 40 years, Marcel has a reputation that elicits fear. He may be popular with the ladies, but the broken hearts left behind might scare a woman hoping for a bright future.
To further my dislike for Marcel, he left his twin babies with his wife's sister and husband to care for after his wife's death. Oh, he provided for them well financially, but he only visited them shortly twice a year. At eighteen years old, these twins who love him anyway are almost adults, ready to spread their wings.
Even though Marcel is currently traveling home due to an unfortunate incident with another man's wife, the reader gets a glimpse of who he really is as the story progresses. That other man's wife may have made a mountain out of a molehill. Then there are all those relatives currently living off Marcel's good nature at one of his homes, several of them uninvited moochers.
Yet again, the cad is someone I started rooting for before the end of the first chapter.
When Viola, the former Countess of Riverdale, ends up at the same inn as Marcel and his brother, Marcel can't believe his luck. This is one of the few women who refused his overtures early in his life. Viola is no less attractive, maybe even more so, to Marcel now. Those who have been following this series will recognize her as the reclusive Miss Kingsley, who was married to the bigamous Earl of Riverdale, and lost everything upon his death with the discovery of his true heir.
These two are adorable together. I'm in love with the setting of their destination. They made me laugh and smile hugely as they got to know one another. Scandalous and lovely sweet. I'm sure the Marquess of Dorchester would be appalled if anyone said how cute they are together.
I loved this book. There are so many tender moments. I especially enjoyed the last few chapters and the end. There are some wonderful quotable snippets in there I'd love to reveal, but I really want you to discover them for yourself. I think those who love an older couple who have experienced life beyond comprehension will adore their journey.
Although this book could easily be read on its own without reading the prior books, you will appreciate Viola's happily-ever-after even more if you follow her journey from beginning to end. Start with SOMEONE TO LOVE, where you'll discover Viola's most horrifying moment. Find out what happens to some of her relatives in SOMEONE TO HOLD and SOMEONE TO WED. I believe you'll understand her progression and lack of caring about what others think of her by the time you get to SOMEONE TO CARE. I didn't agree with all their choices, and they sometimes made me mad, but I absolutely love this couple's happy-ever-after.
In the end, my recommended read status for this novel is in reflection of the engaging settings and characters. I was entertained from the first page to the last. This book is not filled with action, but the interaction with the characters is told at a pace I love. Mary Balogh has a talent I must applaud for her ability to replicate human nature articulately.
A recommended read!