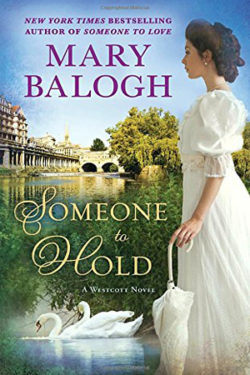 Author

Mary Balogh

Release Date

February 7, 2017

Publisher

Jove

ISBN/ASIN

9780451477804

Our Rating

Reviewed by

Dorine
Our Review
SOMEONE TO HOLD by Mary Balogh once again showcases her talent for creating difficult characters who earn the reader's love and respect. Complex, emotionally stirring and very different from the norm – quite the story!
I was very happy to be back in this world, catching up on what happened to Camille and Abigail after they found out about their father's lies in SOMEONE TO LOVE, book one of the WESTCOTT series. Camille and Abigail, as well as their mother and brother, have found themselves on the outskirts of society, where they always belonged before the unspeakable happened to their family. To make things worse, Camille and Abigail have been sent to live with their grandmother in Bath, where they know no one, let alone having any expectations for acceptance by those who know their current disgrace.
Although this book includes some of Abigail's story as well as Camille's, it's mostly about Camille's transformation. And quite an amazing transformation it is because Camille was very unlikable and pretty much acted like a spoiled brat in the first book. When we meet Camille again in this book, she has been hiding out in her grandmother's house, refusing to join her grandmother and sister on any social engagements.
Camille decides she's done with her old life as well as society's expectations and ramifications. She proves it by applying for the teacher's position at the local orphanage. They agree to a trial period to see how she works out, and it's there that she meets Joel, an artist and her half-sister's best friend. Joel is almost as unimpressed with Camille as she is with him. Complete opposites in social background, they find themselves on equal footing with much to learn from each other. How that will work out when they don't even like one another is part of the fun.
Camille is a mess after her fiancé dumps her, so it's especially poignant to watch her pick up the pieces. She becomes likeable in her no-nonsense approach to her situation. She isn't without faults and is sometimes extremely difficult, so she's not easy to love, but her journey is especially touching. I cried twice before I reached the halfway point of the novel, so Camille made rare progress that touched my heart.
Because she's so rough around the edges and becomes this person that even she doesn't recognize, I consider her one of the most unusual heroines I've read. I couldn't help but feel regret for her situation. She had everything, and yet, she really had nothing. When she figures that out, it's gut-wrenching.
We do get an update on the rest of the characters in book one and I was especially happy to be entertained once again by Avery. He had me laughing like crazy, and Camille had a surprising subtle humor with him. I enjoyed their moments together a lot. As for Joel – I did not see that one coming. Whew – what fun!
I wasn't overly impressed with Joel and his non-consideration for the woman he had been seeing when he meets Camille. I get it that it was common for the times, but I expected more from him. He did win me over with his compassion for Camille, but she outshone him in her transformation.
The end of the story is especially wonderful. It left me with a big, goofy grin on my face. It's perfect and one of my favorite final chapters of all time, which is why I'm tagging this novel as a recommended read.
I highly recommend reading book one, SOMEONE TO LOVE, first, so that you get the gist of Camille's and Joel's previous situation. You can understand book two without reading book one, but you'll miss the paired effect that's quite delightful.
I can't say enough about Mary Balogh's talent. She makes me cry, and I'm happy to do so because her characters deserve an outpouring of emotion. Ms. Balogh's ability to set a scene is equally superb, as I see her stories like a movie playing in my head for weeks afterward. It's rare that I'll read every book an author writes, but Ms. Balogh is fast becoming one of those few. Can't wait to read what happens next!
A RECOMMENDED READ.