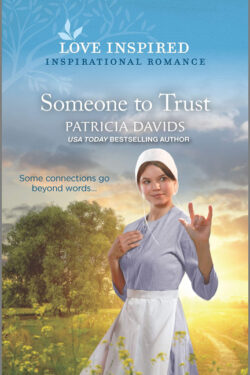 Author

Patricia Davids

Release Date

January 26, 2021

Publisher

Love Inspired

ISBN/ASIN

9781335488657

Our Rating

Reviewed by

Jo
Our Review
SOMEONE TO TRUST is the fifth book in the NORTH COUNTRY AMISH series, which is set in Maine. It held my interest from the first page to the last and had both Amish and Englisch Deaf characters. The story flows nicely, setting a quick pace with matchmaking at its core. When family travel from Ohio to Maine with their stepmother's intent to marry off the four girls, Gabe and his brothers aren't too keen with the idea. (Esther's family is traveling from Ohio to visit Gabe's family in Maine.)
There is a depth to Esther, who is deaf but often feels left on the sidelines when her siblings go off on their own at social gatherings. When the van Esther and her family are traveling in breaks down on the side of the road, Esther wanders into the road to see a moose near a body of water. Being deaf, she doesn't hear a truck barreling down on her, and Gabe saves her life. They form an immediate connection.
Gabe and Esther have a lot in common, and she's a huge help with his leather business—Esther knows how to sew and is artistic enough to help with design. Esther has a good head on her shoulders, and they work well with each other although communication at times presents a barrier to understanding. Gabe tries his best to be able to speak with her and also gets others to include her. It's heartwarming to see since he goes above and beyond what others have done for her, including her own family.
I liked the familial connections as well as the friendships and the attention to detail in how both Esther and Gabe feel when they have misunderstandings. The couple spend a lot of time outdoors together doing what they both individually love—bird-watching for him and sketching flowers for her.
Ms. Davids' scenic descriptions paint a vivid picture of the countryside. The Amish interactions with most of the Englischers is very positive, and I liked how they embraced Esther and her deafness even though she's Amish. The story has a wonderful romance enhanced by the many Amish references throughout the pages. The love story wraps up nicely, especially with the epilogue.
Ms. Davids is a new-to-me author. I look forward to reading more of her books and have added some to my TBR pile since Amish fiction is one of the genres I enjoy reading.