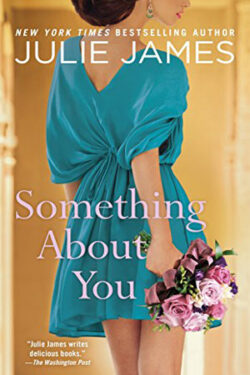 Author

Julie James

Release Date

January 25, 2010

Publisher

Berkley

ISBN/ASIN

B0030DHPAM

Our Rating

Reviewed by

book lover
Our Review
SOMETHING ABOUT YOU by Julie James is book one in the FBI/US Attorney series.
Assistant U.S. Attorney Cameron Lynde spends the night in a 4-star hotel, expecting a restful retreat. Instead, she's kept up all night when the couple next door has hours of hot-and-heavy sex that ends in murder. Cameron sees the murderer through the peephole in her door.
Special Agent Jack Pallas is assigned to the case, and the only witness to the high profile murder is Cameron Lynde—the woman who nearly ruined his career, or so he thinks.
SOMETHING ABOUT YOU has it all—a sizzling romance and a suspense that kept me turning the pages. One of the best romantic suspense books I've read in a long, long time. If you love romantic suspense, this book is for you!
Recommended Read