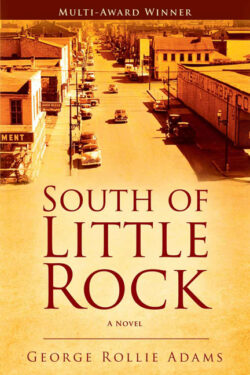 Author

George Rollie Adams

Release Date

October 1, 2019

Publisher

Barn Loft Press

ISBN/ASIN

B07YF57V1C

Our Rating

Reviewed by

book lover
Our Review
SOUTH OF LITTLE ROCK, by George Rollie Adams, was a powerful read. A fiction novel (the romance is second to the social climate), it's set in 1957 Arkansas during integration of the Central High School in Little Rock and told from the perspective of the residents of Unionville, a small town south of Little Rock.
Sam Tate is a pillar of the community—a merchant, deacon of his church, city council member, and a volunteer fire fighter. For a man of this era, he is fairly progressive in terms of race. 
Becky Reeves has moved to Unionville to teach 7th grade. She loves teaching and is progressive and believes in integration, which scares many of the citizens, but not Sam. He sees a kind, sweet, caring woman who is also an excellent teacher for his son, Billy.
Becky falls in love with Sam too, but one thing puts a wedge between them—Becky's great-great-grandmother was black. When she confesses the truth, she breaks it off with Sam to protect him.
This book was a moving portrayal of racial tensions, prejudice, and in particular Sam's growth as an individual. The sweet love story between him and Becky is heartwarming. I loved the book, but I found Sam's mother very difficult to like with her deep prejudice, and the ending left me a little disappointed. But even so, I highly recommend this book.