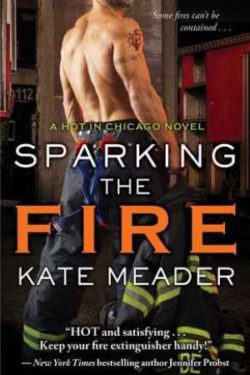 Author

Kate Meader

Release Date

September 27, 2016

Publisher

Pocket

ISBN/ASIN

B01CO34JS4

Our Rating

Reviewed by

Raonaid
Our Review
Lieutenant Wyatt Fox is a firefighter at Chicago's Engine Company 6. He is also a part of the infamous Dempsey clan, a well-known family of firefighters. As he recuperates from an injury, Wyatt grudgingly accepts the CFD media affairs position for Cade Production's upcoming movie. The movie's leading actress, Molly Cade, is the main reason he takes on the job. Wyatt remembers Molly from their steamy week together prior to her rise in fame. A surprise visit from his deceased brother's daughter throws his orderly life into upheaval. However, Wyatt refuses to let the threat of scandal interfere with his family's borrowed time with this sullen teenager. Molly's life in the limelight threatens her and Wyatt's tenuous relationship. Can Wyatt learn to live with the constant hounding of the paparazzi?
Molly Cade is an actress known to the media as 'America's Fallen Sweetheart'. She plans to make a stellar comeback to prove to her ex-husband and the public that she can. Molly is surprised to find the man filling in as the movie's CFD media affairs consultant is the same mysterious marine of five years ago. She intends to use Chicago's favorite female firefighter as inspiration for her current role, yet Wyatt Fox stonewalls Molly from meeting his infamous sister. When his niece arrives, along with stipulations for her stay, Molly decides to keep their relationship platonic so nothing interferes in the family's time with their niece. Can Molly compromise to keep Wyatt in her life? Or will Molly's fame tear them apart?
Wyatt's family is so entertaining. I enjoyed their fun banter and willingness to stand together as a solid unit when necessary. The Dempseys' stamp helped me understand Wyatt a little more, especially his need to bring his niece into their tight-knit fold. Wyatt is the silent, broody type, a contrast to his many adopted siblings, so I identified with his feelings of not belonging. I love that despite this feeling, he still remains around them. I adore how his first thoughts are about Molly's needs over his own, proving to her that not all men are like her ex-husband. The only quirk about Wyatt I am not crazy about is his facial hair because I do not find beards sexy.
Molly surprised me in a good way. Fame and Hollywood's standards may have made her cautious and a little cynical, but Molly did not let it change her into a self-absorbed, entitled diva. She managed to weather the scandal her ex-husband perpetrated with outward aplomb while she hurt inside. I admire her steadfast determination to re-claim the woman she had once been before her disastrous marriage. I respect Molly's consideration of the Dempseys by retracting her plans to use Alex's reputation for her role, so not to interfere with the family's limited time with Roni.
SPARKING THE FIRE is book three in Kate Meader's HOT IN CHICAGO series. Kate Meader is a new-to-me-author, so unfortunately, I have not read the previous two books. There are references that hint to the prior books, but it did not hinder my ability to follow along with the story and plot.
SPARKING THE FIRE is a sizzling, second-chance romance. I generally dislike the reuniting theme, but I found I did not mind it with this book. The author went about it in an interesting and unique way that captured my interest. I cannot wait to find and read the first two books.