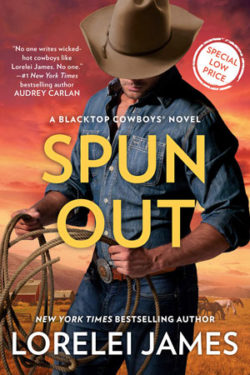 Author

Lorelei James

Release Date

November 5, 2019

Publisher

Jove

ISBN/ASIN

9780399584138

Our Rating

Reviewed by

Jo
Our Review
SPUN OUT is the tenth book the the BLACKTOP COWBOYS series, and I've only read two others in the series. That's being rectified since I've added the books I've missed to my always growing TBR pile. It's easy to figure out relationships even not having read all the previous books.
Streeter and his daughter, Olivia, who is only five years old, have had it rough going on four and half years since his wife (her mother) died. He works on a ranch and lives in an employer-owned trailer, which suits him just fine. Until it doesn't, since he does have bigger plans for his life and home.
Enter newcomer Sergeant Bailey Masterson, who's on a military sabbatical, and things get interesting fast. Their chemistry is definitely off the charts. Bailey's only in Wyoming for the summer, helping out her sister, Harper, and her family since they now have four children plus a ranch to run. In addition, Harper owns a western wear clothing shop that's not doing too well.
SPUN OUT is filled with ideas about family and interactions between adults and children. And Bailey wonderfully interacts with the children in a creative way.  
The story flows smoothly with several steamy moments between the main characters. Streeter and Bailey are both approaching their getting together as something just to pass the time until she leaves, except there's more to it for both of them. The romance is hot, the emotions between the lovers even hotter. And the secondary characters make this a rich romance.
Ms. James has been a hit or miss author for me. I've read about six of her books from several different series. I hope to go back and fill some of them in.  So many books, so little time!