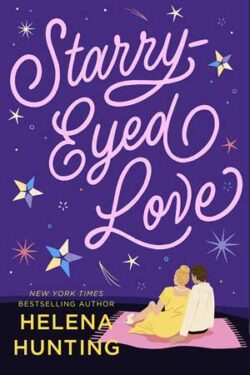 Author

Helena Hunting

Release Date

May 10, 2022

Publisher

St. Martin's Griffin

ISBN/ASIN

9781250624727

Our Rating

Reviewed by

Jo
Our Review
It's not often that I get to read books in a series back to back, and I have to try to do so more often since the flow just seems so much better. STARRY-EYED LOVE is the second book in the Spark House series, and I couldn't put it down after finishing WHEN SPARKS FLY, the first book in the series. 
This is middle sister London's story, although Avery and Harley are woven throughout since they are sisters running the family-owned business, Spark House. We pick up where we left off, and the business is sucking the energy out of the sisters since they are growing exponentially. (Only Avery is not willing to admit it and vetoes the thought of hiring extra help.)
London and Jackson meet at a bar while she's with her sisters. After continually glancing over, he pays the tab for their order and then comes over and asks her out. London turns him down, doesn't take his card, and doesn't even know his name. Little do either of them realize what a small world it is when their paths cross again—this time at a business meeting. Their attraction knows no bounds, but since they're working together, they shouldn't have a personal relationship, should they?
STARRY-EYED LOVE has a great flow and shows us the depth of the characters, who connect on many levels but often have trouble communicating. This is an emotional and romantic read with some pretty steamy moments. There is nice closure with the epilogue that takes place four months after the story ends. I can't wait for Harley's story. I love the cover and the titles given to each chapter.
Ms. Hunting is an author whose books I truly enjoy. I've added more to my TBR pile!