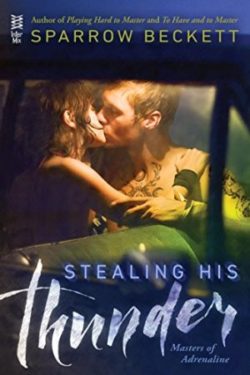 Author

Sparrow Beckett

Release Date

June 21, 2016

Publisher

InterMix

ISBN/ASIN

B01ASO6JFM

Our Rating

Reviewed by

Chrissy
Our Review
Addison Kennedy gets a charge out of stealing cars. She's not doing it for financial gain; it's more for the challenge of seeing if she's able to get away with it.  Unfortunately her days of obscurity are over and Fox Larson, an established car thief, has busted her, knocked her out and taken her back to his home until he could be sure she's okay.  Now that she's met someone who's actually making a living stealing cars Addison's hoping he'll allow her to help him – something which Fox isn't willing to allow.  He's in for a shock though because Addison's not going to give up – and no matter how much punishment he dishes out she's more than happy to take it – in fact she relishes it.
The writing team of Sparrow Beckett tells a thrilling tale with the first title in their MASTERS OF ADRENALINE series. STEALING HIS THUNDER is a fast paced angst filled story that fully captured my attention right from the beginning.  Reminiscent of the 'Fast and the Furious' franchise, STEALING HIS THUNDER makes fast cars, car thieves, and smoking hot sex extremely appealing.   Realistically I know that it's a dangerous profession but there's nothing wrong with fantasizing.
 I adored Addison and loved how she isn't afraid to go toe to toe with Fox – she even seems to come to life under his domination. I especially love how she manages to worm her way into his little group with a bet that leaves him completely befuddled.  While the relationship between Fox and Addison is great fun, I found her background story extremely sweet and endearing and love her dedication to family. 
I've already nabbed my copy of FUELING HIS HUNGER (and yes, I read it too) and now I'm eagerly awaiting PUSHING HER LIMITS. Sparrow Beckett is a new to me author but I'll definitely be on the lookout for more of their books.
MASTERS OF ADRENALINE series:
STEALING HIS THUNDER
FUELING HIS HUNGER
PUSHING HER LIMITS – releasing December 2016