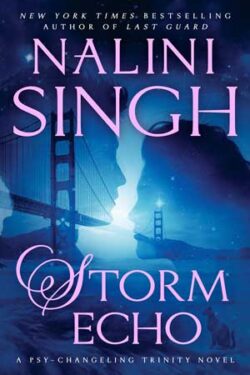 Author

Nalini Singh

Release Date

July 26, 2022

Publisher

Berkley

ISBN/ASIN

9780593440674

Our Rating

Reviewed by

SJ
Our Review
NYT bestseller Nalini Singh's Psy-Changeling Trinity book 6, STORM ECHO, is a heart-stopping and emotionally engaging paranormal romance from beginning to end. I couldn't put it down! It's full of passion, drama, and danger, and has two of the best character leads I've read in some time.
Ivan Mercant, one of the secretive and powerful Mercant clan, is a dangerous Psy with a monster deep inside. He's always known that someday it might take him over, but he's prepared for that day. Until he meets a changeling that makes him feel something special.
Soleil Bijoux Garcia–Lei–is a changeling healer who falls for the icy Psy, seeing something special inside him, something good and pure. And then she loses everything and everyone she cares about.
The romance that begins before their shocking parting is sweet, but it's so much richer once the two find each other again. Amidst danger from the Psy network nearly collapsing, Lei's plans for sworn vengeance, and her own torn memories, the relationship that blossoms between the characters is so real and warm and painful it brought tears to my eyes. Nalini Singh writes with an emotional depth that's wonderful, and it brought back to mind some of her earlier works in this series.
Best read in order, or at least with some familiarity with this world, readers of the Psy-Changeling series are in for a treat. STORM ECHO is a fabulous work of adventure, romance, and passion set in a world drawn with such vibrant creativity it feels real.
Recommended Read!