Strangers in Paradise (A Paradise, Alaska Romance Book 3)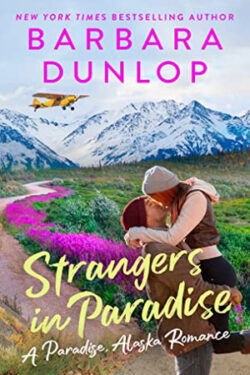 Author

Barbara Dunlop

Release Date

May 24, 2022

Publisher

Berkley

ISBN/ASIN

9780593333006

Our Rating

Reviewed by

Jo
Our Review
STRANGERS IN PARADISE continues the Paradise, Alaska series, and it was nice being back. This is the third book in the series, yet it can be read on its own. This is a feel-good story that will have you smiling once you turn the last page.
Parker is a self-made man who comes from humble beginnings. He has his hands in a lot of businesses as an entrepreneur in Anchorage. Hailey comes from money but wants no part of her family's business and is a bush pilot. She's not happy when he and his business manager show up with an interest in investing in a few of her friends' businesses. She thinks he's too much like her family back in Atlanta and undermines him every step of the way.
Apparently, the heart wants what the heart wants. Because every time Parker thinks he's smoothed things out with Hailey, she jumps to another negative conclusion and disrupts not only his business but her friends' businesses as well. The story has a lot of plot threads woven throughout, but they help enrich the story.
Filled with friends and family, fraught with emotion, and a romance overcoming obstacles, STRANGERS IN PARADISE delivers. The way the story ends is unexpected and heartwarming. A definite fun read.