Strength in the Storm (A Johns Mill Amish Romance)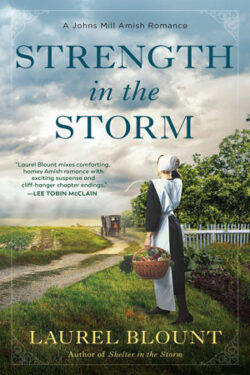 Author

Laurel Blount

Release Date

February 22, 2022

Publisher

Berkley

ISBN/ASIN

9780593200223

Our Rating

Reviewed by

Jo
Our Review
STRENGTH IN THE STORM is the second book in the JOHNS MILL AMISH ROMANCE series, and I can't wait for more. This story has so many layers and is centered around family, the Amish religion, and its community. It's an emotional read, and I cried several times throughout the story.
Emma is still feeling the effects of her parents being murdered by an Englischer and the hand she played in it. Guilt is definitely a strong emotion she's dealing with. She's trying to get on with her life, but it's nothing but difficult. It doesn't help that an Englischer wants to make a movie about the murders and interview her to give balance to the story. Also, the murderer, whom they know, has not been caught. That's a danger in itself. Emma's younger sister seems to rely on her too much, and her brother and his wife, while caring, need to make some changes in their own lives. 
Emma and Sam have been friends for a long time. He's been hoping for more since they were young, but Emma shut that down a while ago. Both Emma and Sam have troubles they have to deal with, and the story ebbs and flows as it twists and turns through many story lines. The stories are woven nicely together and smoothly transition throughout the book.
Filled with the Amish religion, STRENGTH IN THE STORM envelops family and friends and provides a thoroughly satisfying romance. There is wonderful closure with the epilogue that showed the future for several characters. The cover was appropriate for the different storms that the characters have to face. I look forward to reading more in this series along with more books by this new-to-me author.
A RECOMMENDED READ!