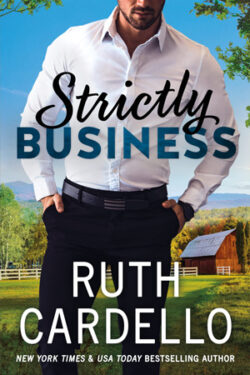 Author

Ruth Cardello

Release Date

May 31, 2022

Publisher

Montlake

ISBN/ASIN

9781542038225

Our Rating

Reviewed by

Jo
Our Review
STRICTLY BUSINESS is the first book in The Switch series, and I'm looking forward to reading more. It was slow to get into at first and to understand the characters, but then it took off.
Jesse and Scott are identical twins who were adopted by separate families and didn't know the other existed. Neither has looked into finding their biological parents…at first. When Jesse switches places with Scott to save his farm, there are a series of events and some coincidences that seem too farfetched to be true. Scott is from a blue-collar family, raised on the farm with the special-needs animals they rescue. Jesse is a businessman who comes from wealth and is in business with his older brother. 
When Jesse and Crystal first meet, there are sparks, more due to dislike and distrust than anything positive. But once they spend time together, their lust and attraction take over (sometimes to an over-the-top extent.) Crystal has always had mediocre sex and boyfriends she was more friends with than anything else. Jesse is a love-'em-and-leave-'em type of guy who runs from commitment, and his dates were always aware of his stance. Jesse and Crystal seem to balance each other, and their chemistry is off the charts.
The story is filled with family and friends and more than a few secrets. The romance has plenty of steamy moments and ultimately love, but the growing relationship needed more time to build, so it seemed. Next up is Scott's story, since he's not ready to step into his own shoes yet. I look forward to reading OUT OF LOVE.
Ms. Cardello is an author who's been on my radar, but I've only read a few of her books.  I have added some others to my TBR pile.