Summer Nights With a Cowboy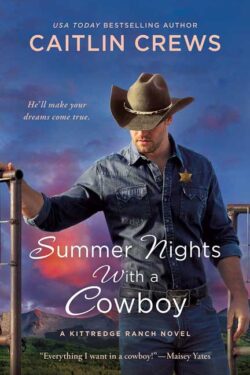 Author

Caitlin Crews

Release Date

March 29, 2022

Publisher

St. Martin's Press

ISBN/ASIN

9781250750020

Our Rating

Reviewed by

Jo
Our Review
SUMMER NIGHTS WITH A COWBOY returns us to Colorado and the Kittredge Ranch.  This is the third book in the series, and it's Zack and Janie's story. It can be read as a standalone and is a lovely romance to add to your shelf.
Janie barrels into town with a lot of secrets and is a nurse/companion to Zack's elderly neighbor. When she and Zack meet, there are definitely sparks, but they go their separate ways for a multitude of reasons. Janie has low self-esteem and always seems to be everyone's friend. But they do say opposites attract, and in this case they are completely on target! Their relationship develops slowly. 
There are several plots going on in this story, and I like how the Kittredges and others we've met in their small town interact. Zack's family is his cross to bear until Janie sheds light on what she observes as an outsider, which affects many of Zack's beliefs. We also learn more about the Hall family who live in their own compound and always seem to be up to no good. There are many surprises in the telling of this tale. The story has a nice flow, rich characters, and terrific closure.
Ms. Crews, who also writes as Megan Crane, is one of my favorite authors. Whether lured in by cowboys, the cold of Alaska, or any of her other subjects, I'm always looking forward to reading what she pens under either name. Give her books a try if you haven't already.