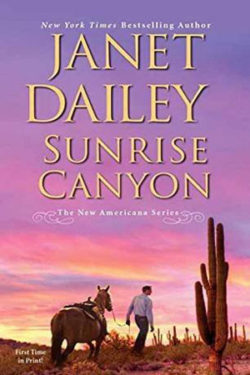 Author

Janet Dailey

Release Date

February 28, 2017

Publisher

Zebra Books

ISBN/ASIN

9781420140101

Our Rating

Reviewed by

Jo
Our Review
I've enjoyed the books I've read in Janet Dailey's AMERICANA SERIES, so I was excited to see there is a NEW AMERICANA SERIES. The first book is set in Arizona and goes deeper than some of Dailey's other books, except for the CALDER SAGA, THE BANNON BROTHERS and THE TYLERS OF TEXAS SERIES, which I highly recommend to others, to name a few.
There is a darkness to the story, but it is on many levels. Sunshine and light do break through at times, but then we're back to dark issues to deal with, and sometimes it feels like we're back to the beginning. Jake is suffering from PTSD and has had nothing but trouble since he's been discharged from the army. When his deceased wife's grandfather sets out to find him and does, Jake can't imagine why. Maybe it's because his five-year old daughter Paige, and his wife's cousin, Kira, need him, or maybe there's another reason. We get to know each of the characters little by little, but they each have a depth to them as well as complex issues to deal with. Kira and Jake have chemistry but aren't sure they are reading the other correctly. Paige, Jake's daughter who doesn't know he's her dad, is wise beyond her years, and Dusty is a crusty old cowboy that has to learn to slow down the hard way.
There is a lot of trust to be earned by various characters in the story. There are horses and horse therapy program run by Kira feature prominently in the story. Dailey brings to life the scenery with her vivid descriptions. There are a lot of layers to the story and its development, and I kept turning the pages wanting to know more. The pacing was quick, and the vivid and colorful descriptions of the land, the trails and the horse therapy program made me feel that I was there. There are many heartwarming threads woven through SUNSET CANYON, and some that are gut-wrenching. The troubled teens play a major role, but they are not always likable.
There is nice closure and a happily ever after due to the wonderful epilogue that takes place six weeks after the story ends. I for one wanted more though. Dailey is one of my favorite authors for western romances, and SUNSET CANYON did not disappoint. I look forward to reading many more books in this new series.