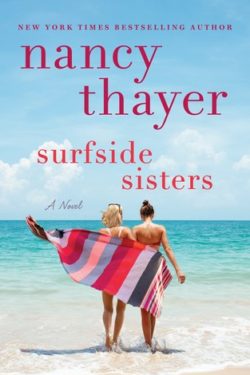 Author

Nancy Thayer

Release Date

July 2, 2019

Publisher

Ballantine Books

ISBN/ASIN

9781524798727/B07FC36WLH

Our Rating

Reviewed by

Michele Rioli
Our Review
Everything in life comes full circle in Nancy Thayer's acclaimed new novel SURFSIDE SISTERS. The story stars beautiful Keely Green and her best friend Isabelle, who is pretty and pampered. They did everything together as kids and had big dreams of becoming writers as adults. Only the winds of life blow in changes. Astonishingly, Isabelle lures Keely's boyfriend Tommy away and a rift forms between them, which changes everything.
Furious and unsettled, Keely moves to New York and pursues her dream of becoming a published writer. Her dream comes true and she is blessed with an agent, a boyfriend, a best selling novel and a glamorous life. Only life blows in more changes. She receives a phone call from her mother's friend. After her father passes away her mother becomes withdrawn. Now, she is seriously depressed. Keely moves back home to take care of her, telling her boyfriend she must go.
Keely struggles with caregiver duties, since she is an only child. She also needs courage to deal with her estrangement from her best friend Isabelle. Also, Keely runs into her childhood crush, Sebastian, Isabelle's brother. Surprisingly, sparks ignite between them. It seems Sebastian harbored feelings for her too. What does the future hold for Keely and Sebastian? Will life bring happiness and unexpected surprises?
SURFSIDE SISTERS is a summer delight! It's a beautiful testament to best friend relationships dealing with boyfriend problems, romantic entanglements along with pursuing one's life dreams. Ms. Thayer's book scores big on all these topics and more. I loved Keely's devotion to her mom and her generous heart. Ms. Thayer's book teaches us the lesson of forgiveness and how important it is to savor one's friendships. As Keely concedes her teen problems with Isabelle are in the past, she maturely decides to rekindle their bond. Romance wiggles its way into her life when she least expects it. Her young crush, Sebastian, pops into her life with some rare surprises. I love the island experience in Nantucket, and the breezy atmosphere that fills the story. I could almost feel the wind from the ocean blowing on me! Come along on a healing journey of best friends in SURFSIDE SISTERS. This is one story to savor that will tenderly touch your heart.