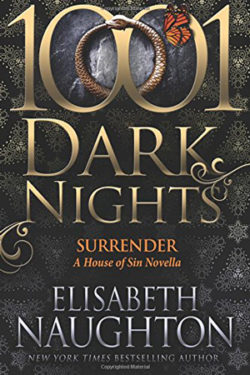 Author

Elisabeth Naughton

Release Date

June 12, 2018

Publisher

Evil Eye Concepts, Incorporated

ISBN/ASIN

B0778G654S

Our Rating

Reviewed by

Raonaid
Our Review
Marco Romero belongs to Italy's House Salvatici. He pretends to abide by the Entente and their immoral ways. Marco undertakes the task of cautioning Felicity Merrick against her Resistance endeavors. The sexy British woman brings danger and possible exposure to his door. Marco has no other recourse but to help Felicity figure out the threat to her house. Will House Salvatici and the Entente learn about Marco's true ambitions? Can he help House Merrick without exposing himself?
Felicity Merrick is the daughter of the head of UK's House Merrick. She is a licensed medical physician. Felicity is an active participant in the Resistance, a group of people who strive to change the Entente and abolish their corrupt power. She intends to steal a memory card with content that can expose her fellow Resistance compatriots. Instead, Felicity encounters a devastatingly handsome Italian, who threatens to distract her. Will Marco be another roadblock in Felicity's aspirations? Or will he prove beneficial?
Marco is such a swoon-worthy hero. I like the fact that he has a phobia. That Marco is not some invincible alpha type, but a human male with weaknesses. I admire his reasons for subterfuge against the corrupt members in his house. But, what I love the most about Marco is his belief that love exists. It is a nice change of pace, especially his willingness to grasp onto love when it presents itself.
Felicity is no damsel in distress. Instead, she is a woman of grit and fire. I admire her steely determination to change the corrupt, male-dominated world she had been born into. But what I like the most about Felicity is how she gives Marco tit for tat in their verbal flirtation-slash-sparring. She is unafraid to speak her mind when around him.
SURRENDER is a short novella in 1001 DARK NIGHTS, #81. It is book 1.5 in Elisabeth Naughton's HOUSE OF SIN series. The BDSM element in the first book, FORBIDDEN, made me hesitant on reading this story. However, SURRENDER reads more like a romantic suspense than an erotica, which made it enjoyable to me.
SURRENDER is a short yet suspenseful tale of two people from rival houses discovering love. I like how Elisabeth Naughton explores another facet into the Entente's world with a novella. I hope if she writes more in this series, the tone will be similar to this story's.