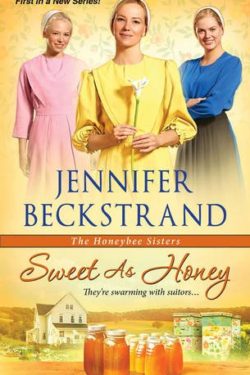 Author

Jennifer Beckstrand

Release Date

June 28, 2016

Publisher

Zebra

ISBN/ASIN

1420140205

Our Rating

Reviewed by

Dottie
Our Review
Growing up, Lily Christner had been an ungainly girl with braces and glasses. One boy in particular, Dan, had called her names, which only made her feel worse. But Paul Glick had come to her rescue and had helped ease her loneliness. Over the years, Lily has blossomed into a beauty, although she is unaware of it, and she and Paul are now considered a couple. But when Dan returns to town after two years away and resumes calling her by the nicknames he has for her, she believes she is still that ungainly girl she had once been. Everyone assumes that Lily and Paul will one day marry, even though her two sisters and her aunt are against the match. But now, Dan is back in town after two years away and is being sweet to her, even helping out at her family's farm. She can't help the way she feels around him, but it leaves her confused.
Dan Kanagy has been in love with Lily for years. He never forgot her the whole time he was away. In school, the only way he could gain her attention was by the nicknames he called her, which he thought were cute. He did not realize that she took them the wrong way and was hurt by them. In fact, he still continues to call her by those names, until she calls him out on it. Dan is devastated that he unwittingly hurt her over the years with the names he thought were charming. Now he will do whatever it takes to win her love, if she will give him the chance.
Lily feels she should stick by Paul, since he was there for her over the years and his family buys her family's honey for their store, but her heart tells her something different now that Dan has returned. She is beginning to see a different side to Dan, but as she grows closer to him, Paul does all he can to come between them. When the truth comes out and the dust settles, will Dan win his heart's desire, or will he lose the woman he loves to a manipulator who will ruin Lily's life?
SWEET AS HONEY, the first book in author Jennifer Beckstrand's HONEYBEE SISTERS series, is a witty, warmhearted, contemporary Amish romance, which centers on three sisters and their Aunt Bitsy, who raised them. The women make a living with the honey from their beehives and other products containing the honey. As the story evolves and ulterior motives are brought to the forefront, little doubt is left as to which fellow Lily should end up with. I really enjoyed the three sisters, their aunt and Dan, but I did not care for Paul and his underhanded tactics at all. He and Dan are complete opposites. Although Dan made some mistakes along the way, he meant well and did not understand at the time that what he was doing was wrong.
Containing sincere characters, innocence, close-knit family dynamics, faith, God, ulterior motives, mystery and romance set in an Amish background, this story is one you will fall in love with. I was captivated as the romance between Lily and Dan evolves and the misunderstandings smooth out. The girls' Aunt Bitsy adds a bit of humor and depth to the story with her gruff, but loving, attitude and her sometimes worldly ways since she once lived among the Englisch, only returning to care for her orphaned nieces.
From the moment that I picked up my first Jennifer Beckstrand book, I had to have more, which led to reading her entire THE MATCHMAKERS OF HUCKLEBERRY HILL series. So when I saw this one, I had to have it. She has two more books yet to be released in this delightful collection, including A BEE IN HER BONNET and LIKE A BEE TO HONEY, coming in August and September, respectively. I already have my order in for both novels. It is refreshing to read books about innocence and the struggle to stay true to ourselves and our beliefs In these fast-paced and sometimes inconsiderate times. I enjoyed reading this first installment to her promising new series immensely and believe other readers will as well. That is why I have made SWEET AS HONEY a Recommended Read. Pick up a copy today and discover the world of Jennifer Beckstrand for yourself! This is one readers will find hard to put down!
A RECOMMENDED READ!