Sweet Slow Sizzle: Bangers Tavern Romance 4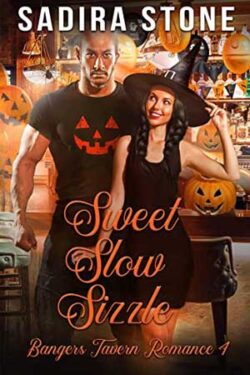 Author

Sadira Stone

Release Date

October 4, 2022

Publisher

Sadira Stone

ISBN/ASIN

B0B3W8R99S

Our Rating

Reviewed by

Fiona
Our Review
Bangers Tavern has a Cupid statue over the bar, and that's what the servers and others who work there blame for the many romances that blossom there. The body-building bouncer, Jojo Williams, has been trying to catch server Lana Lopez's eye for three years. Finally he does. Will things work out, or will their families interfere?
Lana's parents were killed in a car crash a few years ago, leaving her and her two younger brothers adrift. She dropped out of college to care for them in their family home. But their two traditional tias (aunts) took them to court, insisting that she's too young to watch over teenage boys. She won—Lana has been able to pay the bills by doing some freelance work as well as serving drinks at the popular Bangers Tavern.
Jojo has been trying to get her attention, but when things ignite between them, Lana hopes the delicate balance of her family situation will survive. Jojo wants to open a gym to train athletes, so the boys gravitate to him. But they're still irresponsible teenagers, and that spells trouble! Will Jojo and Lana be able to continue their love affair, or will they have to put things on-hold while her brothers finish school?
I've read the first three Bangers Tavern books, and each time it's like revisiting old friends. The partners from each of the previous books are still in the story, continuing their romances. This time it's Jojo and Lana's turn for the steamy scenes that threaten to melt your e-reader. I don't know how many more romances the author can produce from one bar, but if there is another book, I guarantee I'll be first in line to see my old friends again!