Sweet Tea and Sympathy (Southern Eclectic)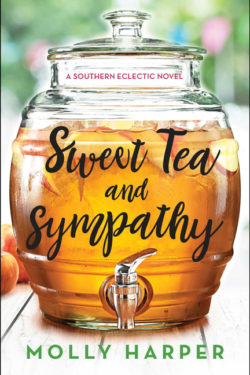 Author

Molly Harper

Release Date

November 21, 2017

Publisher

Gallery Books

ISBN/ASIN

9781501151224

Our Rating

Reviewed by

Jo
Our Review
SWEET TEA AND SYMPATHY was better than I expected and even better when I realized it's the first book in a new series–SOUTHERN ECLECTIC. I can't wait to return to Lake Sackett, Georgia, and the McCready family compound over and over again.
When Margot Cary, who was born a McCready, returns under a dark cloud to her family home in Georgia after growing up in Chicago with her mom and stepfather–both cold fishes–things get Southern fast. It's a small town, so everyone knows everyone else's business, and the townsfolk know her family history and her own story better than she does. When she meets up with her estranged father, Stan, things don't go smoothly for a while. Margot gets to know her extended family and learns background information on herself, her mom, and her childhood. Things are not always what they seem! It was fun to watch the McCreadys become her family and to see how protective Margot grows of them.
Margot steps on people's toes, doesn't understand the way things are done both down South and in a small town, but immerses herself in all aspects of the town quickly once she's given a job in the office of the funeral home. Having cousins, aunts, and uncles help her navigate through some of the finer points of southern living had me cracking up at times. There were definitely some laugh-out-loud moments, as well as some heartache and tears too. When Margot and Kyle first meet, there is a strong pull of attraction. It doesn't help that she's drunk on moonshine!  When their paths keep crossing and she learns more about him, she's running the other way…or is she? 
Kyle represents everything she doesn't want–life in a small town and not a big city, stability, family, and a relationship. Watching Margot and Kyle get close then take a few steps back was often heart-wrenching. They seem to take turns pushing each other away. When they're together though, there always seems to be fireworks. I loved their humor and how they understood each other.
I loved the descriptions of the town, the cottages, the lake, the businesses, and the festival planning. Getting to know the people a little at a time eased me into their southern mentality. There was a depth to the characters as we learned from their histories and memories. I got a kick out of the family business being the McCready Family Funeral Home and Bait Shop. The story flowed nicely, and there was some closure as well as a happily-ever-after, though I would have liked an epilogue. I can't wait to be back in Lake Sackett to see where Harper takes us next and what the McCreadys and the townspeople are up to as well.
Harper is a new-to-me author, and I will be adding some of her other contemporary romances to my always growing TBR pile!