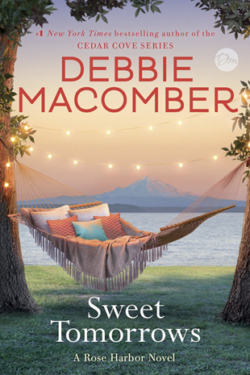 Author

Debbie Macomber

Release Date

August 2, 2016

Publisher

Ballantine Books

ISBN/ASIN

9780553391831

Our Rating

Reviewed by

Jo
Our Review
This was a bittersweet read for me since SWEET TOMORROWS is the conclusion of the ROSE HARBOR series.  I wasn't sure if it would live up to my expectations but it more than did!  It was nice to be reunited with Jo Marie and Mark and some of the other characters we've met before but also meet new ones that seamlessly fit in, namely Greg, Nick and Emily.  It was great that the author gave some background in the first chapter to bring us back in the fold but also for any newbie that picks up SWEET TOMORROWS not realizing it is part of a series.  Throughout the story Jo Marie reminisced about some of the guests that have stayed at her inn over the last three years and how they found peace and healing by staying there. She also remembers the things Mark has done there to improve the inn and help make her vision come to life. It was interesting that the chapters were told from the different main characters point of view in a rotating format whether Jo Marie, Mark, Emily or Nick.
Nick and Emily didn't hit it off initially although there was definitely an attraction that pulled at each of them.  Nick didn't like that she was running on his land and called her out for trespassing and he was unhappy that his trained guard dog, Elvis, let his guard down around Emily and let her not only on the land but let Emily give him hugs and rubs and talk to him. Nick and Emily were two hurting souls that gave each other comfort but Emily was running scared due to her two broken engagements and especially the reasons for them. He still hadn't come to terms with his brother's death the year before. They could help each other heal if they would give each other a chance but they danced around each other a lot until Emily finally forced a break.  
We learned about Mark and his dangerous mission over in Iraq which caused gut wrenching fear as well as tears for me as the reader as well as for Jo Marie who couldn't bear to lose someone else she loved.  When Greg came into the picture it seems as if she's putting Mark behind her but is she?  When they each learn of the other they made their feelings about Jo Marie known but doesn't she get a say in the matter?
There are a lot of twists and turns but also the stories of each of them are woven seamlessly together.  There are family and friends, heartache, sorrow, fear, breakdowns, illness, hurt, secrets, healing, tears, laughter, the inn and the guests, reminisces, Nick's house and love.  The descriptions were vivid of the inn and the Cove and I could picture myself there.  There is wonderful closure, loose ends tied up, some happily ever afters and a nice ending to the series. 
Debbie Macomber is one of my favorite authors and her books are always on my go to list.  None of them stay on my TBR pile for too long.  Now that she's concluded this series  I can't wait to see what's up next for her.
ROSE HARBOR series:
THE INN AT ROSE HARBOR
ROSE HARBOR IN BLOOM
LOVE LETTERS
SILVER LININGS
SWEET TOMRROWS