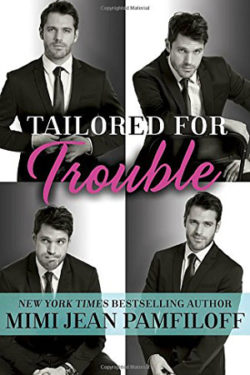 Author

Mimi Jean Pamfiloff

Release Date

August 9, 2016

Publisher

Ballantine Books

ISBN/ASIN

9781101967225

Our Rating

Reviewed by

Michele Rioli
Our Review
In TAILORED FOR TROUBLE by Mimi Jean Pamfiloff, Taylor Reed steps out into the pouring rain and gets sopping wet. To top it all off, she just lost her job. Her day just went from bad to very terrible.
So what caused it? An egotistical, handsome, insensitive man named Bennett Wade wrecks Taylor's career after a boardroom shocker. Then, to add fuel to the fire, Taylor learns from Bennett that unsavory office politics are going on behind the scenes at her ex-job. Now, Taylor is severely depressed and low. Will she work her way out of this mess?
Taylor just got a stroke of luck. Bennett offers Taylor a job with him. But will she take it? Bennett requires Taylor's knowledge and the executive training company she started to secure a prominent company merger of great magnitude. Only Taylor can't stand Bennett. The feeling is mutual. Bennett doesn't like Taylor either.
Taylor reluctantly agrees to Bennett's proposal after he physically kidnaps her. What the heck? Yep, Bennett doesn't take Taylor's no for an answer. Will these two learn to tolerate each other? Bennett is a very charming, attractive, and persuasive man. Curiously, feelings for each other start to blossom. Or could it be Bennett's mom and her little matchmaking cookie that Bennett and Taylor shared that started the rendezvous in the first place?
TAILORED FOR TROUBLE is a strong testament to all woman executives everywhere who are determined to succeed. Taylor is an amusing, clever, and obstinate woman who thought she had her career and life all mapped out, only to have it tumble down around her (due to an extremely conceited, controlling, rich CEO named Bennett Wade). Bennett's offer to hire her backfires and produces many surprises along the way. Taylor's assumptions of Bennett are skewed, and she gets the shock of her life when he reveals the secret behind his business decisions.
Sizzling moments, a lot of rich repartee, adventure a-plenty, and quirky characters round out the plot. Ms. Pamfiloff has taken a traditional romantic comedy and stamped it with a seal of sass and smarts to the whole package. Simply fantastic! Unorthodox business practices, a provocative no-strings-attached arrangement, and a tricky romance that develops when you least expect it. TAILORED FOR TROUBLE is filled with unexpected twists, an undeniable chemistry between Taylor and Bennett, and a plot that will keep readers riveted. Sensational!