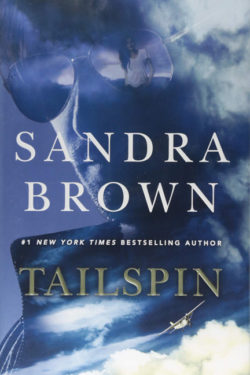 Author

Sandra Brown

Release Date

August 7, 2018

Publisher

Grand Central Publishing

ISBN/ASIN

978-1455572168

Our Rating

Reviewed by

Kathy Coatney
Our Review
Sandra Brown's latest book, TAILSPIN, is a page turner about "Freight Dog" pilot Rye Mallet delivering a lifesaving drug to Dr. Brynn O'Neal to save her five-year-old patient, Violet.
Rye flies out in some of the worst fog ever seen in Atlanta and is just about to land when he's blinded by a laser beam and crashes the plane. He and the cargo survive the crash, but a senator also wants the drug and has sent his thugs to retrieve it. The attraction between Rye and Brynn heats up as they race to get the drug to Violet before the senator's thugs get their hands on it.
The book was fast paced and kept me reading until about the last quarter of the book where, in particular, the hero makes some decisions that didn't make sense. And the villain's actions also gave me some pause. But otherwise. TAILSPIN was an enjoyable read that I'm giving a 4 heart review.