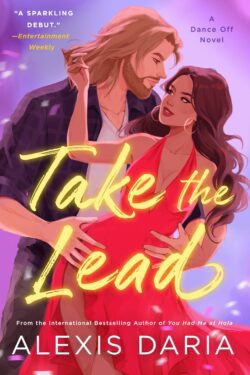 Author

Alexis Daria

Release Date

February 14, 2023

Publisher

St. Martin's Griffin

ISBN/ASIN

9781250817969/B0B863NFXN

Our Rating

Reviewed by

Michele Rioli
Our Review
Ms. Daria's new novel, TAKE THE LEAD is a tangolicously romantic comedy! It stars beautiful, Latina, Gina Morales, a professional dancer, on a national dance show, The Dance Off. She is a pro, works long hours, and this year she is intent on winning top prize. Can she do it?
Gina's finds out her dance partner is the extremely handsome Stone Nielsen from the reality show, Living Wild. Stone's family show gains popularity and his mom is recovering from an illness, so he is cautious about keeping details of his private life, secret. However, being a contestant on the dance show will help with finances on his mom's large medical bills. Stone is very protective of his family and dancing is not his forte. Will Stone and Gina butt heads or will dancing come easily to him?
There is a sizzling attraction between Gina and Stone. Their chemistry is a distraction at first, because Gina is driven to succeed in her career. She maintains a professional appearance but sparks of desire win out. Their relationship moves beyond just dance partners. As each dance brings them closer together, reality rears its ugly head. The show's manager wants them to show off their romance, but Stone and Gina decline. Each have their own life and careers ahead of them and are protective of their families. Will they reconcile their conflicts and become a cuddling, loving, married couple?
Love reality dance shows? Then TAKE THE LEAD is the perfect book to read! Dancing dramas, sexy dance partners, conflicts and more, combine into an entertaining, fast-moving story. I was very impressed with the dance and stage lingo throughout the book. Technical dance routines are explicitly described and I felt like I was right there learning the steps. Beautifully scripted, emotionally involved characters and tense suspense fill the pages of this inspiring novel. I loved it! I wanted to learn how to tango after reading this book! Gina and Stone are a dream couple on and off the dance floor. I was rooting for their romance all the way! TAKE THE LEAD is pure toe tapping fun!