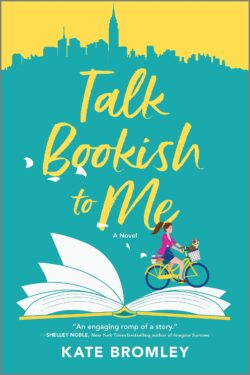 Author

Kate Bromley

Release Date

May 25, 2021

Publisher

Graydon House

ISBN/ASIN

9781525806438/B08FTF3D2M

Our Rating

Reviewed by

Michele Rioli
Our Review
TALK BOOKISH TO ME is an amazing rom-com filled with angsty moments, emotional landmines, and a blooming romance. The star, Kara Sullivan, a pretty historical romance author, is in dire need of inspiration. She has a deadline looming and her creative juices are dried up. Her agent is on her case about getting her book written. Can Kara get her mojo back?
At her best friend's pre-wedding party, her ex-boyfriend, Ryan, a handsome Romeo, greets her, since he is in the wedding party too. Kara's best friend pairs them up together. This is going to be a train wreck! Their dating history together was disastrous. They ended up fighting and upset with each other.
However, Tara's inspiration is flowing again! How about that? Just seeing Ryan dredged up old hurts, but her attraction to him is still there. Incredibly, Ryan is thrown out of his hotel room when his pooch damages it, so Tara offers him her couch while he is in town for the wedding. Was this impulse offer a bad idea? Tara is making headway on her novel as Ryan's nearness sizzles her inside, inspiring her romantic side. Will they overcome their past history and realize what a perfect match they make? Or will their time together go up in flames?
TALK BOOKISH TO ME is a journey of self-discovery and second chances as a sparring couple learn to love again. Kara and Ryan have the hots for each other still, after all these years. Ryan's dog instantly charms Kara and she enjoys having them in her home. Only they need to rediscover honest communications in their relationship. Ryan is very supportive of Kara's published novels and I loved that aspect of the story. Ryan's verbalizing skills aren't great, which is one reason they broke up years ago. Kara takes time for herself, goes on vacation, to sort out her feelings. Will Kara and Ryan ever get back together?
The author did an excellent job creating a couple who are perfect for each other, but have problems they need to work on. This is a perfect enemies-to-lovers story with plenty of sass, spirit, and a special suaveness to the plot. I was touched by Tara's journey to renewal and hope, with her life shifting where she least expected it. TALK BOOKISH TO ME is an awesome story! You'll close the book with a full heart.