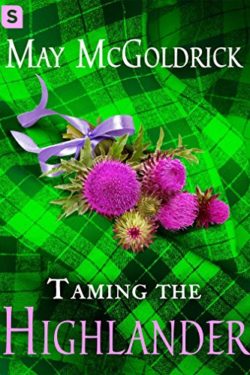 Author

May McGoldrick

Release Date

September 6, 2016

Publisher

St. Martin's Press

ISBN/ASIN

B01FQRXTJK

Our Rating

Reviewed by

Dottie
Our Review
This story centers on a Scottish tablet that is broken in four pieces. If those pieces are ever united, it spells disaster for the world. So, fifty years ago, the relics were separated and transported to the four corners of the earth. Each relic gives the possessor a distinctive gift. Unfortunately, for anyone else to lock into the relic's power, the previous bearer must die.
When her mother dies, Innes Munro is left with a Scottish relic that gives her the gift of being able to see a person's past through touch. However, this often seems more like a curse than a gift, so she frequently wears gloves to give others privacy. Escorting her sister to Castle Girnigoe on her wedding day, Innes is sad to see that the newlyweds are not getting along as well as she hoped. So when her sister begs her to extend her stay, Innes relents. Before long, she encounters the wounded warrior who haunts the passage ways of the castle.
After being captured while in battle against the English and still bearing the scars of their torture, Conall Sinclair, the earl of Caithness, isolates himself from everyone in a tower on the wild Scottish coast. But the inner mental scars plague him more than those on the outside. He is intrigued when he meets Innes, but determines to keep his distance, despite his attraction to her. As their close proximity heightens the passion between them, he is just thankful that she does not know what is going on inside of him.
Innes is falling in love with Conall and more than anything she would like to spend her life with him. But how will he be able to accept her power, or will it destroy any future they may have? The man seeking the relic is willing to do anything to possess it, even kill for it. Will Conall be able to protect Innes when this villain catches up with her?
Filled with suspense, TAMING THE HIGHLANDER, the second novel in author May McGoldrick's THE SCOTTISH RELIC TRILOGY, is an intriguing, sexy historical romance that readers will find hard to put down. The chemistry between Conall and Innes is off-the-charts. I also enjoyed the interaction between Conall and Innes as she helps her wounded warrior discover some joy in life again, bringing him back out into the world to the delight of his clan. The secondary characters are charming as they infuse additional wit and affection into an already unforgettable tale. This story has it all – humor, danger, mystery, sensuality, hunky highlanders, a bit of the paranormal, romance and love.
I discovered this husband and wife writing team, who use the pseudonym May McGoldrick, when I read the first novel in this series, MUCH ADO ABOUT HIGHLANDERS, a story that I found riveting. Since then I have looked forward to this book with much anticipation. I had high hopes for it and I was not disappointed. The characters from the first novel also appear in this book. Each one can be read as a standalone, but I advise reading the entire series.
Although TAMING THE HIGHLANDER has a very satisfying ending, I was still hungry for more about these wonderful characters and the ongoing plot regarding the other pieces of the tablet as well as the villain who will do anything to bring all four pieces together. Now, for me, the hard part is waiting for the next installment, TEMPEST IN THE HIGHLANDS, due to release in January 2017. Treat yourself to a copy of TAMING THE HIGHLANDER today. It is one that fans of historical romance and all things Scottish will not want to miss.