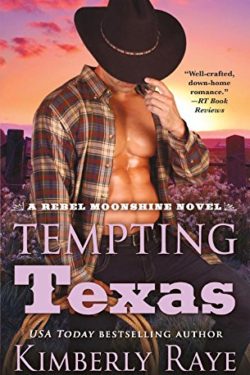 Author

Kimberly Raye

Release Date

November 1, 2016

Publisher

St. Martin's Press

ISBN/ASIN

9781250063977

Our Rating

Reviewed by

Dottie
Our Review
Veterinarian Jenna Tucker always had a bit of a wild reputation, going from one man to another, but she wants to clean up her act, especially after being passed up for a promotion at work. After her sister finds their grandfather's moonshine recipe and sells it to a local distillery, Jenna takes her part of the proceeds to renovate the family spread, hoping to follow her true passion of breeding horses. The house was left to Jenna and her two older sisters, but now that they are married, they have left the place to Jenna. In the process of preparing the house to be torn down and rebuilt, she stumbles across an old trunk in the attic, which contains letters that shed some light on the hundred-year-old feud between the Sawyers and the Tuckers, still going strong today. But the last thing she wants is to get involved in the feud, especially since her two sisters have recently wed Sawyers.
Hunter DeMassi misses his wild days in the rodeo, but with the death of his brother, he sets out to straighten up his act and run for sheriff. Still, he knows that in his parents' eyes he will never measure up to his brother. Now, about to run for his third term, he fixates on discovering who is running the moonshine ring in town. He is also curious about the death of Jenna's grandfather, James Harlin Tucker, which is more than suspicious. Hunter tries to hide his bad boy side and finding a good girl will help, but, unfortunately, no one stirs his blood like Jenna.
Sizzling hot, TEMPTING TEXAS, the third book in author Kimberly Raye's REBEL MOONSHINE series, is a witty, sensual contemporary romance that will take your breath away. Although Hunter's last name is DeMassi, he is a Sawyer through and through, but this doesn't keep him away from the woman of his dreams, Jenna. Left to her own devices now that her sisters are married, Jenna is determined to overcome the town's opinion of the Tuckers by staying away from men and concentrating on her career. She decides that tearing down the Tucker family home and building anew is a start, but Jenna has a sentimental streak that makes it hard to let go. Her sizzling hot connection to Hunter makes it difficult to stay away from him. The chemistry between this couple is explosive and I enjoyed watching them grow closer and attempting to overcome their pasts.
Sexual tension, snappy banter, sizzling hot scenes, mystery, secrets, hidden agendas, two feuding families, betrayals, moonshine, humor, romance and true love intertwine, giving readers a deliciously romantic story that they will hate to see end. This book can be read as a standalone, but after reading it, I am sure you will crave TEXAS THUNDER and RED-HOT TEXAS NIGHTS. I hope this is not the last book in this delicious series. If you are looking for a novel with plenty of sass, sizzle and humor, look no further than TEMPTING TEXAS!