Ten Things I Hate About the Duke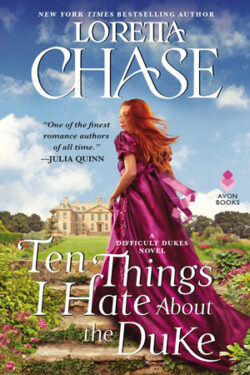 Author

Loretta Chase

Release Date

December 1, 2020

Publisher

Avon

ISBN/ASIN

978-0-06-245740-0

Our Rating

Reviewed by

Dianamcc
Our Review
TEN THINGS I HATE ABOUT THE DUKE by Loretta Chase is the second book in the A Difficult Duke series. This series is about friends who are Dukes and call themselves the Dis-graces. Prone to practical jokes and unbecoming behavior, they are not admired by society.
Cassandra Pomfret, as a teenager, was madly in love with Lucius Beckingham, the Duke of Ashmont. As a grown woman, she can't stand him. His obnoxious and drunken behavior leaves her cold.
Cassandra is outspoken, intelligent, and isn't shy about voicing her political opinions. She is known to be difficult and is content to be a spinster. Her father insists she needs to go to balls, and if she doesn't marry, then her younger sister cannot marry either and must give up all society invitations.
While on a trip to visit her retired governess, Cassandra stops at a tavern for a respite. Lucius is there, having been jilted at the altar the week before, and very drunk. He shoots off a pistol outside to quiet the crowd, causing a carriage accident in which her groom is severely injured. She hits Lucius with her hat and pushes him over then proceeds to order him about.
Lucius has never met a woman with fortitude who can carry on an intelligent conversation, and he is smitten. Their "courtship" is really laugh-out-loud funny. The one-liners are great. It's an uphill battle to win over Cassandra, but this is one battle Lucius intends to win.
The book has humor, betrayals, dastardly villains, warm love scenes, blackmail, and a wonderful ending.
Recommended Read!