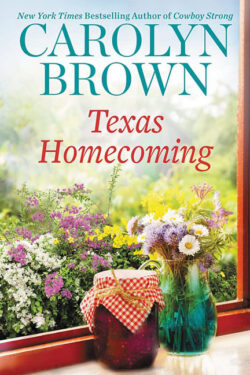 Author

Carolyn Brown

Release Date

January 25, 2022

Publisher

Forever

ISBN/ASIN

9781538735633

Our Rating

Reviewed by

Jo
Our Review
TEXAS HOMECOMING is the second book in THE RYAN FAMILY series, and I'm looking forward to reading more. Ms. Brown is one of my favorite authors, and I love her cowboy romances. This is the story of Cody and Stevie (Stephanie). They dated in high school, but he broke her heart when he told her he had to focus on his studies when he went to college and couldn't continue to date her. No discussion! Fast-forward twenty years later and their paths cross when they both return to their small town in Texas.
He's now a doctor and had been serving with Doctors Without Borders but returns home due to his father's failing health and to help his brother on their ranch. She's a vet, but when her mother became sick, she came home as well. She has set up a local vet practice where she goes to her patients and treats large and small animals. Cody also makes house calls with his concierge service along with his sister-in-law, who's his nurse. Watching Cody and Stevie draw closer when they are both stranded in a neighbor's barn during a blizzard was both heartwarming and frustrating. When they realize that they want to bury the hatchet and at least be friends, they aren't fooling anyone. I loved watching their love grow and how they treated each other. 
We reunite with characters we've met before, and I loved the interactions. I also enjoyed the various characters' memories and liked that so much from SECOND CHANCE AT SUNFLOWER RANCH, the first book in the series, was revisited and we got to see how some of it played out. There was a nice flow to the story and a loving conclusion, especially with the epilogue that takes place five months later. All in all, a very satisfying read.