Texas Tall - Heroes of Heartbreak Creek #4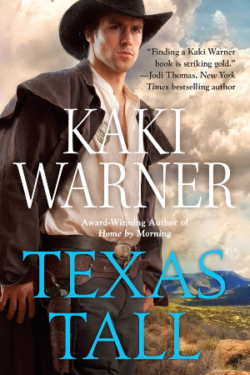 Author

Kaki Warner

Release Date

October 4, 2016

Publisher

Berkley Sensation

ISBN/ASIN

9780425281147

Our Rating

Reviewed by

Jo
Our Review
TEXAS TALL was a quick read that was fast paced and flowed nicely with a lot of characters – some of them multidimensional.  The prologue is set in 1875 three years before the book starts and sets the stage of what's to come.  Lottie has a past that no one knows about when she moves to Greenbroke, Texas in 1878 alone at the age of fourteen.  But will it catch up to her at some point how and why did she end up there?  She's very industrious, works hard, is smart, good with numbers and has a head for all things business.  She's made friends, starts a bookkeeping business and puts together a consortium to make investments.  All to make herself rich so she'll never be poor again and have to live the way she and her grandfather did on his ranch.  Definitely a woman who knows what she wants and goes after it.  Will there be a man she can partner with that will take her the way she is and not try to conform her?
Ty is a ranger that gets shot when they are transporting a prisoner right in the middle of town.  The only one willing to come to his rescue is Lottie.  Although they only exchange a few words before the doctor arrives they feel an immediate attraction.  Their first couple of outings are abysmal but Ty vows to make them better since he's attracted to Lottie. Watching them take one step forward and two or three back was heartbreaking. We get to know the people in the town through the businesses they run but also through their friendships.  Lottie's best friend Becky needs watching since she's very impetuous.  When she's mixed up with the traveling preacher, Nathaniel Lindz, Lottie tries to counsel her.  But will Becky listen?  Lindz, with his loose morals and unpreacher like behavior gave me the creeps each time he was in a scene.
There are family and friends, businesses, bad memories, reminisces, relationships, vivid descriptions of the land, sadness, tears, anger, hurt, happiness. laughter, loving and love. There were a lot of interactions between the characters and we better learn their background information and their feelings about certain situations. There are many twists and turns to the story but each adds another layer to the book. There is nice closure and the epilogue tied up the loose ends nicely and gave us a few happily-ever-afters!
Warner is a new to me author having only read HEARTBREAK CREEK (RUNAWAY BRIDES #1) which is a connected series to this one and HOME BY MORNING, the third book in this series.  I look forward to reading other books by this author that I've missed along the way as well as the rest of the books in the HEROES OF HEARTBREAK CREEK SERIES and THE RUNAWAY BRIDES SERIES if this is her caliber of writing!