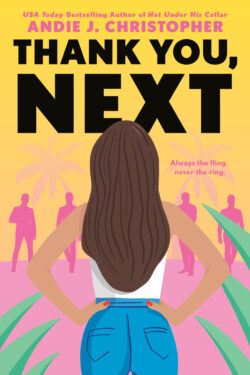 Author

Andie J. Christopher

Release Date

June 14, 2022

Publisher

Berkley

ISBN/ASIN

9780593200063/B09G9N698D

Our Rating

Reviewed by

Michele Rioli
Our Review
Loving yourself is tough. Alex finds out the awkward way in THANK YOU, NEXT. Alex Turner's dating life is disastrous. She never meets Mr. Right. Her dating life ends and next she knows, her ex finds true love. She's a single divorce attorney and again, she discovers her ex's new fiancee is picking out her wedding dress. Ugh! Alex is frustrated at being left out. Will she ever find the one?
Alex sets out to unravel why every man she dates, ends up marrying the next girl. Her childhood friend, Will, a hot chef, irritates her. His dad married her grandmother for a while. Alex had a high school crush on him, but now, no way, his presence annoys her. They see each other at family functions but keep their distance.
Alex and her friends paint the town red in L.A. as they meet up with her ex-boyfriends and Will goes too, as her undercover protector. Will still harbors feelings for Alex. Alex finds out the hard way, as each guy gives his synopsis of what went wrong. Will gives her necessary support, an arm to lean on, when the truth finally hits her. She might hate Will, but his undeniable devotion rattles her. Might she be falling for her childhood friend?
THANK YOU, NEXT is a humorous and honest tale of the quest to find true love. Clearly, Alex and Will are made for each other, but it takes a lot of soul searching to reveal the truth. Alex is one tough gal with a streak of stubborn independence. She reveals relationship truths the hard way by canvasing all her old exes. Will is along for the ride. Alex and Will rub each other the wrong way but as built-up walls come down, romance trickles in. Do they ever realize that the undeniable passion between them is real? The author expertly weaves a tale full of insecurities, stubbornness, respect and love as Will and Alex travel to and fro unplugging old relationships and rediscovering who they are along the way. A beautiful, witty story that's lusty, provocative and funny in spades. THANK YOU, NEXT is smartly sexy.