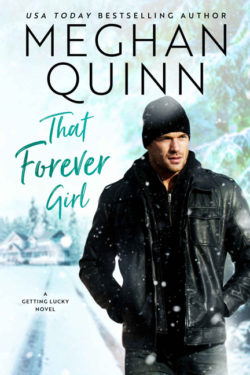 Author

Meghan Quinn

Release Date

August 27, 2019

Publisher

Montlake Romance

ISBN/ASIN

9781542006903

Our Rating

Reviewed by

Jo
Our Review
THAT FOREVER GIRL is the second book in the GETTING LUCKY series, and it didn't lose a beat from the first book, THAT SECOND CHANCE. The prologue begins two and a half years before in New Orleans where book one begins. We meet up with the four Knightly brothers once again, but this is Rogan's story, along with his best friend, Harper.
Watching Rogan and Harper's friendship go from best friends to more was heartwarming, and I loved the way their love story was portrayed. There was a depth and rightness to their feelings, and it was amazing how well they fit together. They'd been best friends since sixth grade, but it took them awhile to realize that they felt more than friendship. There were definitely obstacles placed in their path to test their love. 
Both their families played important roles in the story, and the town came alive through the telling of their romance. The descriptions were beautifully written and made me feel like I was there. There were much reminiscing about the past as well as characters dealing with a twisting present. The story played out with many surprises along the way and ended with a satisfying conclusion.
There are two more Knightly brothers who need their stories told. Whose will be next?
Ms. Quinn is an author who's been on my radar, and I've read the first two books in this series. I've added more of her books to my always growing TBR pile and can't wait to read more.