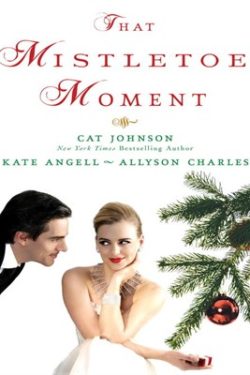 Release Date

September 27, 2016

Publisher

Kensington Books

ISBN/ASIN

9781496705570

Our Rating

Reviewed by

Jo
Our Review
THAT MISTLETOE MOMENT has three novellas by two authors that I've enjoyed reading books from before – Cat Johnson and Kate Angell, and a new to me author, Allyson Charles. The stories all take place at Christmas and revolve around an app called 'Build a Boyfriend' which has unexpected consequences in all three stories.  The stories fit together nicely and there is a flow to them even though there are different scenarios, characters and even locations involved.
A BOYFRIEND BY CHRISTMAS by Cat Johnson
A BOYFRIEND BY CHRISTMAS introduces us to the 'Build a Boyfriend' app when Noelle unexpectedly and unceremoniously dumps her boyfriend of five years when she realizes she's in a dead end relationship. I, for one, cheered!  Her sister, Nikki, tries to boost her spirits by signing her up for the app and helps her set up her profile for Nathan.  Nathan happens to be the man Noelle unexpectedly meets at the grocery store on Thanksgiving when they are both buying up the last of the fresh cranberries.  Is there a connection between the two Nathan's or a Freudian slip?  The attraction is definitely there although it can't go anywhere – at least at the moment!
When things go astray with the app, unbeknownst to Noelle, it was fun to watch especially since live Nathan knows absolutely nothing about Nathan from the boyfriend app and sometimes misconstrues her statements and texts.  There are a few twists and turns with family and friends, romance, loving and love along with food and the holidays.  There is wonderful closure that's a surprise to all with a nice happily ever after in their future.
I've read several steamy novels by Johnson previously and have several on my always growing TBR pile.  I look forward to reading more of her books.
http:\\catjohnson.net
ALL I WANT FOR CHRISTMAS IS… by Kate Angell
ALL I WANT FOR CHRISTMAS IS… is definitely my favorite book in the anthology.  I love the way Daniel and his new personal shopper, Riley, interact.  Their attraction is immediate but she knows it can't go anywhere since that's why his last personal shopper was fired. Daniel is definitely intrigued by Riley but it's mainly because she's so different than anyone he's met or worked with before or is there something more?  I love the way she embraces the spirit of the holiday and also brings out the boy in the man.
Watching the two of them fight their attraction due to her philanthropic doctor boyfriend, Andrew, was fun to watch especially since Daniel didn't know the real story about her and Andrew's relationship but knew he could never poach on another man's woman.  His feelings towards Riley kept surprising him and for someone who is always in control and seems to have no life outside of work he's really taken with her.  Riley, being Riley, throws herself into everything she does and I love the way she brings everyone in the firm together to make the office into a winter wonderland not caring what Daniel might think but delighted with his reaction.  There was nice closure and a very happily-ever-after in their future.  
Angell is one of my favorite authors and this is a detour from her normal contemporary romances with baseball and the beach at their core but similar to her last novella, CHARMED BY YOU in the Halloween anthology, THE COTTAGE ON PUMPKIN AND VINE.
http: \\ www.kateangell.com
HER FAVORITE PRESENT by Allyson Charles
HER FAVORITE PRESENT has the owners and managers of the 'Build a Boyfriend' app front and center.  Gabe and his business partner, Ben, are coming at the app from different directions now that profits are stagnating somewhat.  When they have a meeting to discuss where they see the company heading and how to make it more profitable there are some strange ideas thrown out. Gabe surprises Ben and the others as well as himself when he takes them up on their bet to get more personally involved in the business. It seems to be working out better than Gabe expects when he has a chance meeting with one of their clients, Rachel, or is it?  Watching his encounters with her and knowing what we know and she doesn't was sometimes heart wrenching and I didn't like his public displays of affection which were quite a bit public.
Rachel's fiance, Trevor, from the 'Build a Boyfriend' app seems to have a bit of a personality change after Gabe meets Rachel but she seems to take it in stride.  She's totally falling for Gabe while still having the pretense of a fiance for her co-worker's benefit and Rachel feels like she's living a double life!  There are a few twists and turns, not all good, and Rachel doesn't like the turn her life takes after finding out about the bet.  There's a lot of loving or is there plus a lot of sexting which takes Rachel out of her comfort zone but she seems to embrace it and get on board with it quickly.  There is some closure and things smooth out for them but will it lead to a happily ever after?
Charles is a new to me author and I look forward to reading the two books in her PINEVILLE SERIES.
http://www.allysoncharles.com/