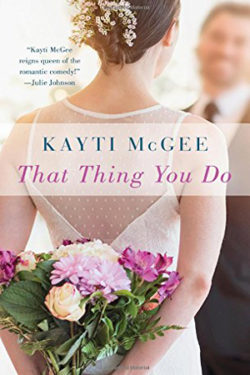 Author

Kayti McGee

Release Date

August 29, 2017

Publisher

St. Martin's Press

ISBN/ASIN

9781250086501

Our Rating

Reviewed by

Jo
Our Review
THAT THING YOU DO was a quick-paced and playful read with laugh-out-loud moments. Greta is destined to always be a bridesmaid, and that's how she meets the hot DJ at her sister's wedding. Everyone around her seems to see she's falling for Jon but her. She tends to push him away when she thinks things are too good. She's off guys, romance, and love since she doesn't have great examples around her, and her history speaks for itself.
Greta is an artist but works as a nanny to pay the bills. Sometimes I wonder who the child is—her or her charge, Mina. They have good times together, but she isn't too fond of Mina's dad, Bob, who's never around since he lost his wife. It doesn't help that he doesn't always pay Greta on time and leaves her in charge, even on what should be her days off, as he goes on date after date.
Jon fits right in with Greta and Mina, and they have fun times together as a pretend family, but are they meant to be? Greta seems to be a different person around him, but she thinks it's all a lark since they're only fake dating to get her friends off her back (since the three of them have made a pact about dating.) Jon seems to go along with her schemes to a point but feels he wants more with Greta, which is why he makes her agree to real dates in between the fake ones. Greta and her two best friends, Amy and Summer, always seem to be there for each other, but they have their ups and downs too.
The story is filled with family and friends, hot, between-the-sheets moments, and laughter and emotion. The characters didn't have the depth I was hoping for, but there were a lot of stories going on, and those were woven seamlessly together. There was some closure and a happily-ever-after that I wasn't expecting, along with enough loose ends that might lead to other books to follow. (I hope, but I couldn't find anywhere that this is the start of a new series.)
McGee is a new-to-me author. I will give some of her other books a try, but I'm really hoping I'll be back with Jon, Greta, and the others to see how their lives pan out both career-wise and in the love department.