The Amish Christmas Kitchen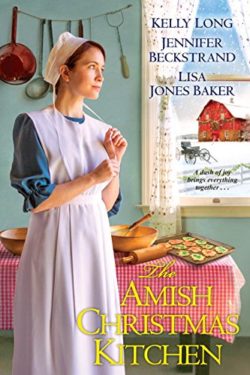 Release Date

September 27, 2016

Publisher

Kensington

ISBN/ASIN

1496705912

Our Rating

Reviewed by

Dottie
Our Review
BAKING LOVE ON ICE MOUNTAIN by Kelly Long
After the death of her husband, Clara Loftus becomes a recluse, hiding away up on the mountain. Unbeknownst to the widow, her husband's best friend, Daniel Kauffman, who had held her husband as he was dying, had made a promise to marry Clara. But when he attempted to fulfill his promise, she refused his proposal. Now, two years later, Daniel finds a way to draw her out with a little competition and her love of baking. As they participate in the competition they are thrown into each other's company and Daniel finds himself losing his heart to her. Will the magic of Christmas grant him his wish this year?
https://www.facebook.com/amishauthor/
THE CHRISTMAS BAKERY ON HUCKLEBERRY HILL by Jennifer Beckstrand
Katie Rose Gingerich's parents have sent her to stay with the Feltys for a few weeks in the hopes of a marriage between Katie and the son of a family friend. But it is Titus Helmuth who steals Katie's heart and makes her feel loved. Will Katie be forced to marry the man her parents have picked out for her, or will the magic of Christmas grant Katie her heart's desire?
http://www.jenniferbeckstrand.com/
THE SPECIAL CHRISTMAS COOKIE by Lisa Jones Baker
Aware that little Amos needs surgery, but doesn't have the necessary funds, Amish schoolteacher Emma organizes an auction so the procedure can be performed at the Mayo Clinic. But Jonathan, Amos' brother, who has been responsible for his family since the death of his father, does not want what he considers charity. Will the magic of Christmas, Amos' need and Jonathan's growing feelings for Emma give him a change of heart so his little brother's most fervent wish can come true?
http://www.lisajonesbaker.com/index.html
THE AMISH CHRISTMAS KITCHEN is an anthology of three uplifting stories penned by authors Kelly Long, Jennifer Beckstrand and Lisa Jones Baker. Each novella comes alive through their talented storytelling, as well as the warmth of the Amish kitchen, the delicious scents of Christmas baking and the magic of love at this special time of the year. In BAKING LOVE ON ICE MOUNTAIN, Clara and Daniel each try to do something special for the other one, reminiscent of THE GIFT OF THE MAGI. If you are looking for a book that will lift your spirits and fill your heart with the magic of Christmas, THE AMISH CHRISTMAS KITCHEN is for you. As a bonus, recipes are also included. The elderly Feltys are up to their matchmaking antics again in THE CHRISTMAS BAKERY ON HUCKLEBERRY HILL. This time, they have their grandson Titus in their crosshairs and hilarity ensues as they pull out all the stops to get Katie and Titus together. THE SPECIAL CHRISTMAS COOKIE will touch your heart as little Amos' one Christmas wish is to walk again and be able to play with the other children. The growing love between Emma and Jonathan is heartwarming. THE AMISH CHRISTMAS KITCHEN combines three tantalizing tales that bring the spirit of Christmas to vivid life all yearlong!