The Amish Teacher's Dilemma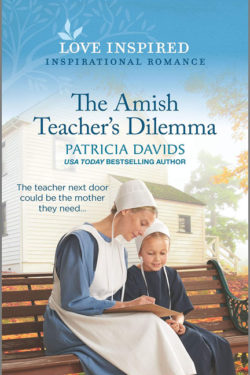 Author

Patricia Davids

Release Date

February 18, 2020

Publisher

Love Inspired

ISBN/ASIN

9781335487995

Our Rating

Reviewed by

Jo
Our Review
THE AMISH TEACHER'S DILEMMA is the third book in the NORTH COUNTRY AMISH series. I haven't read the first two books but look forward to reading them. Ms. Davids is a new-to-me author, and I'll be back to sample more of her books if this is her caliber of writing.
I love reading Amish romances since they are clean, inspirational, and give us a flavor of the Amish culture. Eva has just been hired on as the teacher for the new Amish school that was built in New Covenant, Maine in a fairly new community. She has been hired on a month-to-month basis for the first year, and she's hoping she can stay. She's been given her own house along with furnishings and other household items which she is very excited about. She's making friends and delving into lesson plans and her student's records before the school year begins.
Her neighbor, Willis the blacksmith, is raising his three orphaned siblings who have recently come to live with him. The children are an integral part of the story, showing Willis as a loving brother. Many other characters from their church also help flesh out this wonderful community.
There is an attraction between Willis and Eva but neither want to act on it since neither is interested in marriage and want to remain friends. They take one step forward and two back in their friendship throughout the book. There are secrets to be learned and family dynamics to overcome, especially in Eva's family (that she left behind in Illinois.) I liked that her brother came for an unexpected visit and added another layer to the story.
There is a lot of romance in THE AMISH TEACHER'S DILEMMA, which surprises both Willis and Eva since neither believe love is on their horizon. His siblings help bring them together since Eva's always volunteering to care for them and seems to understand their feelings of loss more than Willis does. A touching romance and well worth the read.