The Art Of Running In Heels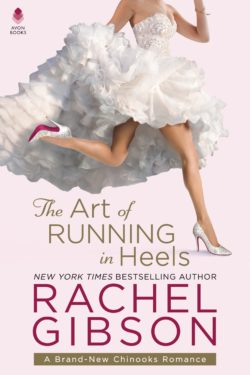 Author

Rachel Gibson

Release Date

December 26, 2017

Publisher

Avon

ISBN/ASIN

978006224747/B06Y12BDFN

Our Rating

Reviewed by

Michele Rioli
Our Review
What happens when an epiphany hits you at the last minute? Run for your life! THE ART OF RUNNING IN HEELS is the seventh book in the Chinooks series and delightfully stars Lexie Kowalsky, daughter of John Kowalsky, coach of the Seattle hockey team. Lexie signs onto a reality TV show and competes against many women to wed a man. However, she actually got on the show to advertise her new pet couture business. Only, Lexie harbors a competitive streak and before she knows it, she wins the groom, Pete! How did she get in this mess? She doesn't love him and decides to make tracks, right out of a live show taping, her wedding, and into a waiting sea plane bound for Sandspit, Canada. However, the plane is occupied by someone else besides the pilot, sizzling, handsome Sean Knox, Chinook hockey star. Oh boy!
Sean is stunned. A beautiful bride just popped onto the plane with him, all oodles of white wedding dress and sparkles. Oh my gosh! It is Lexie, his coach's daughter! Sean is not in his coach's good graces right now because he is new to the team. Now Lexie, trouble with a capital T, is along for the ride. How does life always manage to throw him curve balls?
Lexie is clueless as to who Sean is and he is not offering to share his credentials. Lexie notices Sean's attractiveness and his electric testosterone. He is so masculine! Oh no, attraction heats up between them. This is so not good. Can Sean resist Lexie? She is utterly gorgeous and curvaceous. Then the unthinkable happens, they are photographed outside a motel together and it hits the tabloids. Lexie impulsively comes up with a scheme, spin the story into a positive, to benefit both of them. Will it blow up in their faces? Can they dodge the love bullet forever?
THE ART OF RUNNING IN HEELS is crazy fun, wildly romantic and free spirited. Crazy impulsive schemes, zany characters, one weirdly cute dog, and hijinks galore, encompass Ms. Gibson's latest novel in the Chinook series. Lexie Kowalsky, a zany business woman and Sean Knox, hockey star, are thrown together by fate, albeit in a sea plane. One look at each other and they are indelibly hooked. In Sean's case, Lexie is tantalizingly sexy but knows she is his coach's daughter. Lexie is drawn to Sean like honey, but knows he is foul territory. Heaven help them! Ms. Gibson delivers an adventurous story involving determination, spirit and chutzpah. Lexie might be slightly off-kilter in her thoughts but she has a lot of heart. She is seriously independent and is very courageous. She never gives up on her business or friendships, even when the chips are down. The author cleverly throws in a lot of twists into the mix, leaving the reader to wonder if Sean and Lexie will hook up or not. THE ART OF RUNNING IN HEELS is kitschy, klutzy fun!