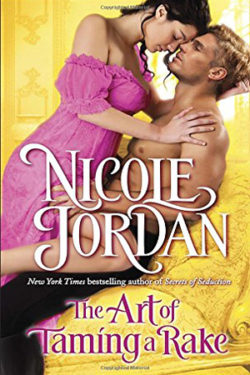 Author

Nicole Jordan

Release Date

February 1, 2016

Publisher

Ballentine Books

ISBN/ASIN

9780553392555

Our Rating

Reviewed by

Brooke Wills
Our Review
Venetia Stratham will do anything to protect her sister from falling for or marrying renowned rake Quinn Wilde, Earl of Traherne. She even goes so far as to enter a gentlemen's club carrying a gun and threatening to shoot him. Not only does his reputation precede him, Venetia has had personal experience with him in the past. After all, his best friend was her former betrothed, who showed up on their wedding day drunk from a night of debauchery with his mistress. Because Venetia refused to go through with the marriage, she is now scorned by society and rejected by her family. And it was all Quinn's doing. No way would she ever allow her sister to suffer unhappiness at the hands of this notorious scoundrel.
Without a doubt the Earl of Traherne has a reputation as a rake. But he's hardly as dishonorable as he seems. When his life is threatened and Venetia is the accused, he immediately marries her to save what honor she has left. Together they set out to unravel the mystery of why someone wants Quinn dead. But who knew they'd actually fall in love along the way!
Bestselling author Nicole Jordan has written another wonderful tale with a smart, sassy heroine and sexy but honorable rake. THE ART OF TAMING A RAKE is vintage Jordan that is an easy and fun read. The love scenes are spicy and the storyline is action-packed, making this a book that's perfect for a lazy afternoon.