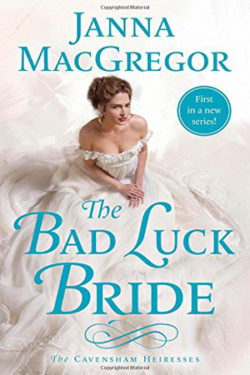 Author

Janna MacGregor

Release Date

May 2, 2017

Publisher

St. Martin's Paperbacks

ISBN/ASIN

1250116120

Our Rating

Reviewed by

Rhea
Our Review
Lady Claire Cavensham is cursed. Three broken engagements have propelled Lady Claire further towards a depressing outlook of being single, doomed to live out her life with her aunt and uncle, the Duke and Duchess of Langham. When Alexander, the Marquess of Pembrook, comes to her rescue after her fourth disastrous broken engagement to Lord Paul, Claire agrees to become his wife, determined to live out her dream of having a loving, close family. The Lady Claire Curse will finally be broken.
Alexander Pembrooke has no love for Lord Paul, believing him to be the reason his sister, Alice, was now buried in the family crypt. When Lord Paul's financial situation becomes shaky, Alexander sees his chance to exact revenge on the man who took away his sister. Lady Claire unknowingly is thrown into the middle of a vicious retribution and Alexander is balancing a very thin line as he starts to fall for the beautiful and mysterious Lady Claire.
Janna MacGregor introduces the world to the first characters of The Cavensham Heiresses series and immediately entices her readers to adore Lady Claire. Lady Claire is a strong woman caught in the tragic web of circumstance that robbed her of her parents and created a paralyzing fear of storms. Anyone who has lost a loved one and who has experienced PTSD will be able to relate to Lady Claire's plight of trying to have a normal life despite her devastating childhood. Grab this book and read it before the second book of the series, THE BRIDE WHO GOT LUCKY, comes out November 2017.
A RECOMMENDED READ