The Bakeshop at Pumpkin and Spice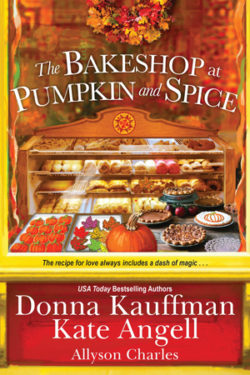 Release Date

August 27, 2019

Publisher

Kensington

ISBN/ASIN

9781496722157

Our Rating

Reviewed by

Jo
Our Review
THE BAKESHOP AT PUMPKIN AND SPICE is an anthology that has three short stories by three authors that I've enjoyed reading books from before – Donna Kauffman, Allyson Charles, and Kate Angell (who happens to be one of my favorite authors). The stories take place in Moonbright, Maine at Halloween. Books are not often set at this time of year, and the three stories are filled with lots of magic! If you've read the anthology, THE COTTAGE ON PUMPKIN AND VINE, you'll be returning to Moonbright and meeting up with some of the characters and businesses we've met before. I do hope there will be more books set in this magical town!
SWEET MAGIC by Donna Kauffman
SWEET MAGIC only whet my appetite for more as we're introduced to Bree and her grandmother, both of whom own Bellaluna's Bakeshop. It's family owned and run, and there's a lot of magic in the story—and not only because of the scrumptious goodies they bake. I could smell the delicious aromas of the items they had for sale as I engrossed myself in this book. The bakeshop plays an important role in all three stories and I couldn't wait to see how its magic would work.
Caleb Dimitriou comes to town from Philadelphia to keep his uncle's restaurant open while his aunt and uncle go on a very belated honeymoon. But all is not as it seems with his aunt and uncle or their business. He and Bree cross paths at the bakery, and there's magic in the air, or is it in the cookies? As they seem to have an immediate connection, they both keep trying to fight their attraction and throughout most of the story take one step forward and two or three back. When Caleb's sister comes to Moonbright to help out at the restaurant, she tries to keep him grounded as well as give him some advice on the dating front. 
The story flows nicely, and we learn about the characters and their families a little at a time. We also learn about their dreams and how important their families are to each of them. There's closure with a nicely executed happily ever after, and the epilogue was the icing on the cake. I liked that there was a cookie recipe at the back of the story.
I've previously read only two of Ms. Kauffman's books. One was part of a Christmas anthology and the other was the first book in one of her series. I definitely will be adding more of her books to my always growing TBR pile. 
LOVE SPELLS DISASTER by Allyson Charles
LOVE SPELLS DISASTER has Cassie thinking her boss is her soulmate, but he only sees her as a good employee at his insurance company. They have nothing in common, something handyman Chip, whom she meets at work when he comes in as a client, keeps telling her, especially since he himself is attracted to her. Chip keeps surprising her at every turn. As their paths continue to cross, Chip finds himself even more attracted to her. Cassie doesn't know what to think. Once again there is magic in a cookie in a particular bake shop. 
Cassie has haunted house ideas that Chip builds, and their interactions draw them closer. But Cassie tries to fight her feelings. There is nice closure but the ending didn't go far enough for me. The epilogue takes place at the Halloween parade, and there is a cookie recipe at the back of the story.
I've only read one of Ms. Charles's stories before, and it was part of a Christmas anthology. I do look forward to reading more of her books.
SWEET ON YOU by Kate Angell
SWEET ON YOU was a fun read once I got past Lara's not very nice ex and his new girlfriend. Both left a lot to be desired and were not characters I could warm to. 
Lara is decidedly down on her luck when other things in her life also get derailed. But when her path crosses with Jack at the bakery, there's magic in the air. That happenstance meeting sets things in motion to turn Lara's life around and maybe even give her a shot at love. It was all things Halloween in this story, and there's so much good to be found. The Halloween nicknames Edna bestows on everyone are delightful, and we learn more about her. Both the cottage and Grace, the costume shop owner, are a part of this story as well. The story ends happily though I wish we could have been privy to some of the romance that led up to it since it happened off the page. Once again there is a cookie recipe at the back of the story.
Ms. Angell is one of my favorite authors, and this is different from the contemporary romances she normally writes with baseball and the beach at their core. I've now read several of her stories included in anthologies and hope to read more of them in the future, especially if we get to return to Moonbright over and over again!