The Ballad of Hattie Taylor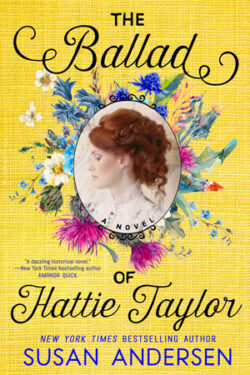 Author

Susan Andersen

Release Date

January 5, 2021

Publisher

Berkley

ISBN/ASIN

9780593197868

Our Rating

Reviewed by

Jo
Our Review
THE BALLAD OF HATTIE TAYLOR is an historical romance set in the early 1900's. It's a fast-paced read even though it was four hundred pages. Throughout the book, I laughed and cried and couldn't put it down, reading about Hattie from the moment she arrived at eleven years old in the small town in Oregon to live with distant relatives.
Hattie was definitely rough around the edges, having grown up with her dad and another man's influence after her mother died years ago. Once her father also passed away, the male friend thought it best she learn to live like a lady, like her mother, and shipped her off to her unknown relatives. She wasn't well liked by the town since she was wild in her ways. Her cousin Jake who was older seemed to take her under his wing until they had a falling out. Her only friend, besides her revered aunt, was Moses. Unfortunately, though best friends, Moses didn't always stick up for her with others.
As we watched Hattie mature, become more genteel and plan for her future, we also saw the pain that she lived with. When Jake married the doctor's daughter, Hattie didn't expect to like his wife, but they forged a relationship. Unfortunately, Jake's marriage wasn't as it seemed. There were a lot of twists and turns to the story, with ugliness and evil coming to the forefront now and then. Hattie left for Seattle, estranged from both Jake and her best friend, but neither Jake nor Moses knew the reasons why. 
Hattie returned home after being away at school for two years to teach with her new best friend, Nell. She found a new respect in town and came out of her shell. Her transformation from child to adult was hard to swallow yet was described beautifully. The story was filled with family and friends, a romance and emotional growth. The cover fit the book well, and the Author's Note and Reader's Guide at the end of the book were nice additions.
Ms. Andersen was a fairly new-to-me author, only having read one other book by her. This was her first foray into historical romance, and I hope it won't be her last. THE BALLAD OF HATTIE TAYLOR was a powerful read, especially touching on the sensitive subject matter of sexual assault.
Recommended Read