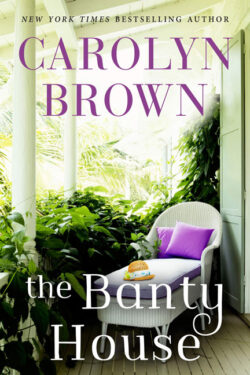 Author

Carolyn Brown

Release Date

May 26, 2020

Publisher

Montlake Romance

ISBN/ASIN

9781542018814

Our Rating

Reviewed by

Jo
Our Review
THE BANTY HOUSE is set in a very small town in Texas called Rooster. Three elderly sisters—Kate, Betsy and Connie—live there, and we learn the history of the house, about their mom who died sixty years before, and their penchant for living life.
The sisters are definitely set in their routines but live life as well. When Ginger, a pregnant, homeless, young woman is found on a bench by Connie, she is taken under their wing and given a place to stay. Little does Ginger know how that little act of kindness will change all of their lives.
We get to know the sisters, Ginger, and their neighbor Sloan, who is dealing with his own problems. There are colorful characters among the town people as well. Carolyn Brown does a fantastic job of engaging emotion through details and vibrant characters.
The story flows nicely. Friends, family—both biological and of the heart—family stories, traditions, and rich history paint a picture of a rich story. Sloan and Ginger work to get their lives back on track and bond over the hard work. The Banty House ties everything together, and the warmth in this story makes it stand out.
There is wonderful closure with the epilogue that takes place twenty years later that really caught us up with their lives and their continued histories.  
Ms. Brown has become one of my favorite authors. Her romances are full of families that include strong women and a lot of love. Whether I'm reading one of her contemporary, historical, cowboy romances, or women's fiction stories, I've enjoyed them all and can't wait to see what she pens next.