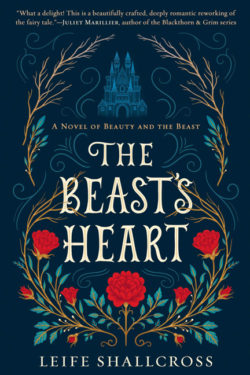 Author

Leife Shallcross

Release Date

February 12, 2019

Publisher

Ace

ISBN/ASIN

B07FZNXTCK

Our Rating

Reviewed by

Raonaid
Our Review
Julien Courseilles, the Beast, lives his cursed life in seclusion. When an aging merchant trespasses on his property, he demands the man's youngest daughter in recompense. Out of guilt, the Beast beseeches Isabeau to remain with him for a year. He believes she is the key to breaking the Fairy's curse. When they learn of Isabeau's father's health, he selflessly releases her from their pledge. Can the Beast win the fair Isabeau's heart before the year's end? Or will he be doomed to a lonely existence?
Isabeau de la Noue is the youngest daughter of an impoverished merchant. She arrives at the Beast's home to honor her father's debt. His appearance frightens her; however, Isabeau discovers there is more to the Beast than his façade. The two form a tentative friendship. Isabeau quickly finds herself enjoying her stay with the Beast. When she learns of her father's poor health, Isabeau pleads to the Beast to allow her to visit her family. Will Isabeau keep her promise to the Beast? Can she help him break his curse?
I like the fact that the story is told in the Beast's point-of-view, which is different and new. The Beast is a haunted soul learning to reconnect with his lost humanity, despite his inhuman appearance. I like how he is still plagued with normal human insecurities. I understand the Beast's curiosity in observing Isabeau's family through his magical mirror, but sometimes I felt he intruded too much.
The only gripe I have is that the author never delved into Isabeau's point-of-view, which made it difficult to connect with her character. She is an honorable and courageous young woman, who never quibbled about her family's change in fortune. Instead, Isabeau made the best out of the situation fate handed her. I like how she insists on honoring her father's end of the bargain, even though her sisters and father depended on her. But what I adore the most about Isabeau is how she sees the man beneath the bestial façade.
THE BEAST'S HEART is a standalone novel from Leife Shallcross. I generally do not read fairytale-themed books. However, I have always had a soft spot for the Beauty and the Beast theme, so I decided to give it a try. Some parts of the story felt slow, yet that did not diminish the story's magical quality. It did take me some time to adjust to the first-person point-of-view.
THE BEAST'S HEART is a heartrending yet bittersweet retelling of a classic fairytale. I like how this version greatly differs from the Disney animation and live-action rendition.