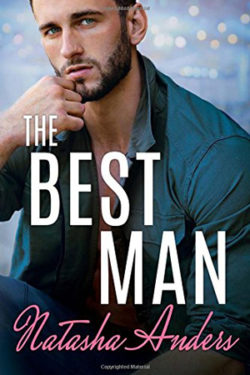 Author

Natasha Anders

Release Date

April 10, 2018

Publisher

Montlake Romance

ISBN/ASIN

B0786D3FQK

Our Rating

Reviewed by

LJT
Our Review
Author Natasha Anders brings us the second book from her ALPHA MEN series, THE BEST MAN. Since I enjoyed the first installment, requesting its follow-up was a no brainer. At times I really disliked the female heroine, but as the story progressed she let down her barriers and became absolutely genuine and easy to identify with. The male hero was a total sweetheart, and his ability to be patient was inspiring. Although this book is part of a series, it can be enjoyed as a stand-alone.
Boutique store manager Daffodil McGregor, or just Daff to her friends and family, is in a dead-end job that she hates. She has no love life to speak of, even though one man has crushed on her since childhood. In high school, Daff was quite nasty to Spencer Carlisle and humiliated him whenever she got the opportunity. Now Spencer is a successful businessman and a real catch. Daff's sister is marrying Spencer's brother, and as a result, their bridal party duties throw them together. They have to be nice to each other, which they both find difficult at first. As time goes by, they get to really know each other, and Spencer forgives Daff for her past actions while Daff realizes that Spencer has always been the man for her.
This is a nicely-paced story with well-defined and identifiable characters. I loved the way Ms. Anders evolved Daff and Spencer's relationship, with tenderness, delightful banter, and longing. This novel incorporates many emotional elements, while Daff's sisters provide depth and some humor. Spencer's childhood situation brought me to tears, and his ability to make something of himself was quite uplifting. If you are looking for a contemporary romance with the perfect balance of sweetness and heat, an engaging plot, and a happily-ever-after that will leave a smile on your face, read this book!